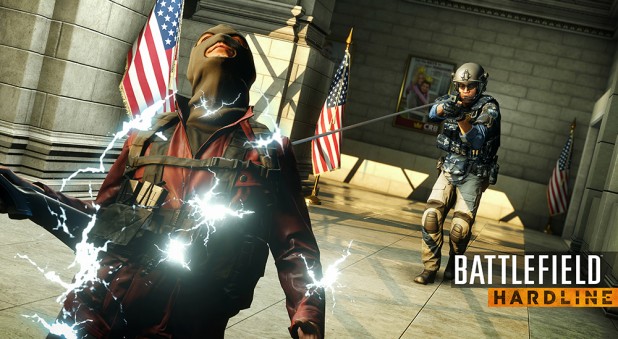 It's time to get a piece of the action! Today we are announcing that Battlefield Hardline's open multiplayer beta will be active between February 3 and February 8*. Available to players worldwide on PC via Origin, PlayStation 4, PlayStation 3, Xbox One, and Xbox 360, the open beta will give you a small taste of what's in store when the game hits the streets beginning March 17. Developed by Visceral Games, Battlefield Hardline is a fresh new take on Battlefield, built on strategy, speed and story in single player and multiplayer, delivering a complete first person shooter experience.
Three Different Maps and Modes
The open beta will let you try out three different multiplayer maps and modes. First off, Hotwire mode brings high-speed chases to the Battlefield, as the criminals attempt to steal a list of marked cars while the cops try to repossess them. Available on two maps in the beta, Downtown and Dust Bowl, success in Hotwire will require excellent teamwork and precision driving.
The desert town of Dust Bowl known for its drug trafficking problems will also be playable on Conquest, the fan favorite Battlefield mode, which takes the battle up to 64 players. Finally, there's the Bank Job map where you'll get to try out Heist mode. The criminals are trying to break into a bank vault, but the cops are doing their best to stop them. Which side of the law will you ride with?
Introducing Hacker Mode
On top of all this, one player on each side can help out their team through Hacker mode. Similar to Commander in Battlefield 4, Hacker mode takes surveillance to the next level as the Hackers can take control over security cameras, spot enemies and specify areas on the Battlefield for their team to attack or defend. Hacker mode will be playable on all modes in the beta.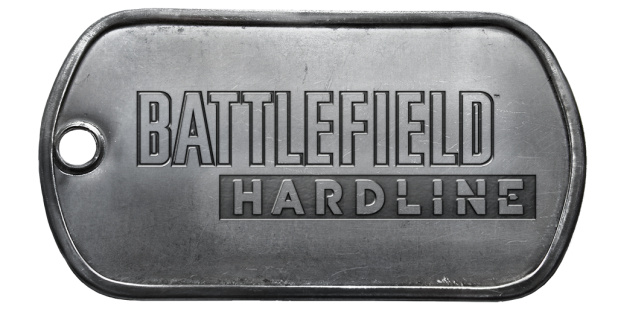 Battlefield 4 players hitting the Hardline beta will receive an extra perk* for joining the chaotic urban warfare: the Hardline Dog Tag. If you have a Battlefield 4 account and try out the Battlefield Hardline beta the dog tag will be unlocked in the next patch for Battlefield 4 for you to proudly wear in-game. Watch your back – a lot of foes will want to grab this…
See you on the Battlefield February 3rd!
Learn more about Battlefield Hardline
Pre-order Battlefield Hardline
Battlefield Hardline F.A.Q.
When is the Battlefield Hardline open beta?
Buckle up, the Battlefield Hardline Open Beta hits the streets on February 3 and ends on February 8! It'll be available to all players around the world, so there's no excuse to not try it.
How do I register for the beta?
It's an open beta, there's no need to register!
What platforms is the beta going to be available on?
You can get a piece of the action on PC, PS4, PS3, Xbox One, and Xbox 360.
What time will the beta be available to download on February 3?
Time will vary by platform and by region. Please come back and visit the Battlefield Hardline news page for more information and updates.
When will the beta end?
The beta concludes on February 8. Exact time will vary by platform and by region.
How big will the download be?
On PC, Xbox One and PS4, the download will be between 10-11 GB.
On PS3 and Xbox 360, the download will be slightly under 4GB.
Can I pre-load the beta?
You can pre-load the beta on PC via Origin beginning Monday, February 2 at 10 AM PST.
What is the level cap?
There is no level cap in this beta, you can experience the game's full progression system during the 6 days the beta is live.
Will my stats and progression carry over to the main game?
Progression doesn't carry over, but your expertise surely will!
What maps and modes will be in the beta?
The beta features Conquest on the map Dust Bowl, the brand new Hotwire mode on the maps Downtown and Dust Bowl and another new mode Heist on the map Bank Job.
How many players can play each mode?
PC, PS4 and Xbox One supports 64 players on Conquest and 32 players for Hotwire and Heist.
On PS3 and Xbox 360, all modes support 24 players.
When will I get my Battlefield Hardline dogtag in Battlefield 4?
Your dog tag will show up when the next patch for Battlefield 4 is released in March.
* The beta will be available February 4-8 in Japan on PlayStation 4 and PlayStation 3.
** THIS OFFER IS BEING ISSUED TO YOU FOR PROMOTIONAL PURPOSES ONLY AND DOES NOT CONSTITUTE A CREDIT, CHARGE, DEBIT OR GIFT CARD. REQUIRES BATTLEFIELD 4 ("PRODUCT") ON APPLICABLE PLATFORM, ORIGIN ACCOUNT AND INTERNET CONNECTION TO PARTICIPATE AND ACCESS IN-GAME CONTENT. DIGITAL DOG TAG FOR BATTLEFIELD HARDLINE BETA PARTICIPATION WILL BE ENTITLED DURING NEXT BATTLEFIELD 4 PATCH UPDATE.