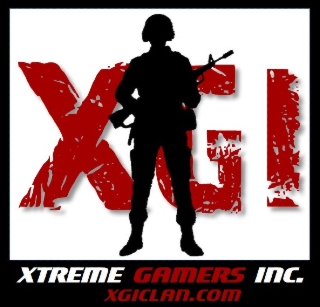 Platoon-Präsentation
Welcome to the Xtreme Gamers Inc.

We thank you for your continued support and encourage all members to take advantage of the tools, training, and support =XGI= has to offer.

If you are not a member and would like more information please join us on our TeamSpeak channel and request for an officer to assist you.

To see all of our Elite Gaming Servers search the battlelog server browser for =XGI= and be sure to add us to your favorites!

We welcome all scrim requests, but only when requested by your clan officer.

=XGI= has a ZERO TOLERANCE for cheaters. ALL members are continuously examined, recorded, and reviewed to ensure fair game play at all times. Should you get caught and you will, an irreversible ban will be placed on your account.

Join us on our weekly clan meeting to hear new developments, strategies, and to offer feedback regarding our services.

Thank you again for your loyalty and good sportsmanship. We look forward to seeing you on the battlefield.

XTREME GAMERS INC.
PROVING OURSELVES SINCE 2006
Platoon-Feed
https://www.youtube.com/watch?v=NhGabGFt0Ao&feature=youtu.be

It seems like Operation Locker will be the new home for XGI in BF4 xD. It looks like a new Metro, but with 5 flags :D.

http://xgiclan.com/node/2779 Please comment on this

1 weitere anzeigen ...

LDD_YoGaFroG

Will people stop complaining? Will you be able to enforce it when admins are offline? Will teams be able to bounce back without taking a or c? Certainly there will be a change in the game dynamic but for the most part it will be

hey yall nfo moved our server to a new machine last night!! here is hoping for better server performance

XGI, just ain't the same anymore. Too many of the older awesome members are gone and it's just not the same to play with you guys. I wish you guys the best, i'll still be playing on the server, but i don't think XGI is where i want to be right now. Happy hunting fellas.

8 weitere anzeigen ...

JC7133

With school starting, I wont be playing much other than vacations and weekends.

BloodnGunz

I'm active again and so is tellgod and butinz so I think we have it covered for now

Time to rejoin the action :D.

Sorry for the inactivity guys. That will change soon.