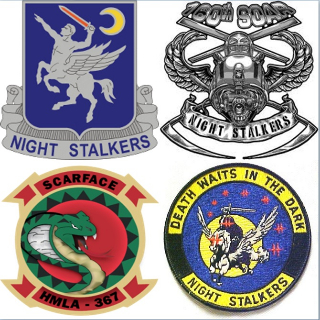 160TH SOAR & HMLA-367
Tag:
[Cpt.]
Fans:
18
Erstellt:
10.02.2012
Platoon-Präsentation
Helicopter Ace Pilots Platoon
All pilots welcome, only apply to join
You can invite your pilot friends.

The 160th Special Operations Aviation Regiment (Airborne) is a special operations unit of the United States Army that provides helicopter aviation support for general purpose forces and Special Operations Forces. Its missions have included attack, assault, and reconnaissance, and are usually conducted at night, at high speeds, low altitudes, and on short notice. The 160th SOAR (A) are also known as the Night Stalkers and their motto is Night Stalkers Don't Quit.

Marine Light Attack Helicopter Squadron 367 (HMLA-367) is a United States Marine Corps helicopter squadron consisting of AH-1W SuperCobra attack helicopters, AH-1Z Viper attack helicopters and UH-1Y Venom utility helicopters. The HMLA - 367 are also known as the Scarface and their motto is When you are out of Scarface, you are out of guns.
Platoon-Feed
Keine Ereignisse zum Anzeigen vorhanden