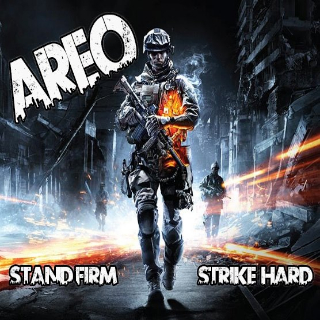 Platoon-Präsentation
Greetings and welcome to °l|l°Ąяєσ Gαмιηg°l|l°™

This is our official community page which we are proud to say we have a great bunch of guys here who play together on a regular basis.

We're a UK based competitive platoon, with the addition of a few members from USA and Canada. We like to have a laugh and play the objective. We don't tolerate any drama from anybody as we like to keep everybody in Areo happy. As well as Battlelog we also have an Areo website and forum page, also a Facebook, YouTube page which we are partnered with RPM Network and and also a Twitter page.

▬▬▬▬▬▬▬▬▬▬▬▬ஜ۩۞۩ஜREQUIREMENTS & APPLYING FOR AREO:ஜ۩۞۩ஜ▬▬▬▬▬▬▬▬▬▬▬

We are a private platoon and want to keep us a close clan. So if you meet these requirements posted below and are interested in joining our clan, Then please take the time to fill out an application form on our website in the join us section. It literally takes 2 mins. And we'll get back to you the same day and agree on a date and time to take you on a try out. to see how much of a team player and a laugh you are)

➪ Preferably people 16 years and over are welcome to join as its easier communicating with more mature gamers.

➪ Also owning a mic and speaking English is a must.

➪ Be a team player, IE constantly drop med-packs/ammo and if a team mate dies whose a medic swap kits with him and revive him as 2 guys are better than one.

➪ We're now only looking for players with a K/D ratio of 2.3 or higher and to have an SPM over 650 so only apply if you meet these requirements)

➪ To be active(It's okay if you can't be on all the time, we understand people have lives)

➪ Show loyalty by always wearing the Areo clan tag.


▬▬▬▬▬▬▬▬▬▬▬▬▬▬ஜ۩۞۩ஜAREO'S CLAN SERVER & DETAILSஜ۩۞۩ஜ▬▬▬▬▬▬▬▬▬▬▬▬▬

Server Names: Best Maps
Server Owners: A-J-D-2011
Server Admins: Leaders

▬▬▬▬▬▬▬▬▬▬▬▬▬ஜ۩۞۩ஜPARTNERSHIPS & USEFUL LINKS ஜ۩۞۩ஜ▬▬▬▬▬▬▬▬▬▬▬▬

♣ ________________________ _ ▃ ▅ ▃ _ « Foxtrot Gaming » _ ▃ ▅ ▃ _ ________________________ ♣
(FoX) Run by Crook-zz, lmHuge, Inked_Up_24, Bronyr_aur
Website: http://battlelog.battlefield.com/bf3/platoon/landing/#!/bf3/platoon/2832655241339359007/
Designated Training Day: TBA

♣ _____________________ _ ▃ ▅ ▃ _ « LHxD Graphics Designs™ » _ ▃ ▅ ▃ _ _____________________ ♣
Sponsored by LeahHagganxD™
Website: https://www.youtube.com/user/LeahHagganxD

♣ _____________________ _ ▃ ▅ ▃ _ « RPM NETWORK™ » _ ▃ ▅ ▃ _ _____________________ ♣
Partnered by RPM™
Websites https://www.youtube.com/user/rpmnetwork
http://rpmnetwork.com/


▁▁ ▂▂ ▃▃ ▄▄ ▅▅ ▆▆ SӨᄃIΛᄂ/MΣDIΛ ▆▆ ▅▅ ▄▄ ▃▃ ▂▂ ▁▁

➪Official Website: http://www.areoplatoon.com/
➪Elite Website: http://areoelite.enjin.com/
➪Youtube: http://www.youtube.com/user/Areoplatoon
➪Facebook: https://www.facebook.com/AreoClan
➪Twitter: https://twitter.com/Areops3platoon

Bf3 Premier league division 2 - Finished #1 
Grindfest tournament- Reached Semi-Final 


FraggedNation- http://www.fraggednation.com/memberships.php?teamID=21822 


.•´¯`•->Clans We've Played<-•´¯`•. 
BEUK, SNM, LVz, D3vZ, BUL, HsR, TOW, BB, IQ, S8, BAR, HELL, TR, 023, PSK, BaFo, Qaa, C.E.L.L, DtcH, TACT, PONY, vFv, GTxX, MoG, FoX, OIRe, MoB, RFH, ZFS, S_G, KxG, Xile, III, C66C 


Thank you for visiting and taking the time to view our page. If interested in joining us drop by our official website and submit an application. Content copyright © 2012. Areoplatoon.com. All rights reserved.
Platoon-Feed
Keine Ereignisse zum Anzeigen vorhanden