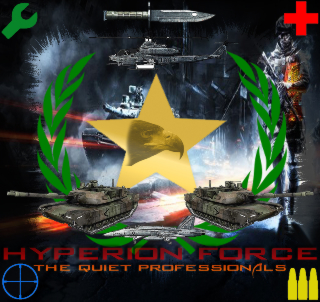 Platoon Presentation
Hyperion Force (HyP)
Hyperion Force is an elite unit of soldiers dedicated to teamwork. The units operators are highly skilled in all areas but they specialize in vehicle fighting. Hyperion is trained in covert entry, explosive handling and even effective hand to hand combat. Hyperion have developed a working knowledge of systems on jets, helicopters, tanks and other vehicles that enables them to intervene and take control of any scenario in any environment with extreme effectiveness. Hyperion Force is also referred as the 'quite professionals.'
Don't try to run, you'll just die tired!

Priorities:
Squad members (revive, heal, resupply, staying together, etc.)
Team
Objectives (flags, m-coms, etc.)
Enemy team

Minimum criteria to apply:
K/D Ratio : 1.0
Rank : 25
Score per minute : 300
Accuracy : 8.5%
Time played : 30 Hours
*Exceptions when invited*

Status : Currently recruiting! Apply now!
Platoon feed
There are no more events to show