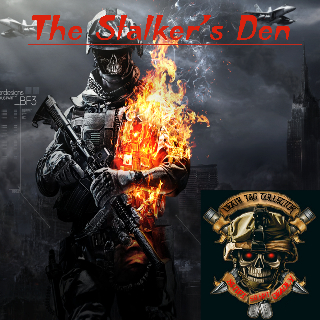 THE STALKER'S DEN
Tag:
[SDC]
Fans:
28
Created:
2011-12-12
Platoon Presentation
Kill how you wish, but nothing is better than STABBING your enemies. Any fool can kill you with a gun or vehicle. THE STALKER'S DEN is for people that aren't hung up on stats and play to have fun. No leaders or meetings, just online friends causing chaos to the other team. Simply were out to ruin your day and own your team in every way. Run SDC as your tag if your into shanking your foes! MELEE KILLERS your home!


THE TEAM

AnarchYxNinja - Melee Killer, Level 100
SolidSnakeMode - Melee Killer, All Vehicles, Level 100
YankeeBravo32 - Melee Killer, Vehiicles, Level 100
Mighty-Reflect - Ground Pounder, Level 100
Voodooo Haze - Ground Pounder, Level 100
x Akula - Level 100 Gold Jet Tags
j3nnings32 - Melee Killer, Engineer, Level 100
Merczone - Weapons Specialist, Level 100
XPhobiaPhobicX - Ground Pounder,Level 100
TheRipper Frank - Melee Killer, THE STALKER'S DEN creator, Level 100
Moxious - Tanks
CrispyGrub - Team Support
xCAS1994 - Melee killer (Cheeq)

ONLY 1 RULE IN THIS CLAN. YOU MUST BE A LEGIT GAMER NO BOOSTING OR HACKERS WANTED. CHEATERS ARE WEAK AND HAVE NO REAL SKILL! THIS MEANS NO KNIFE LOBBIES OR PLAYERS WHO ONLY PLAY TEAM DEATH MATCH. WE ALL PLAY CONQUEST AND DOMINATION.

All members got their rank and stats the old fashion way, THEY EARNED IT! NO ONE HERE HAS MULTIPLE PEOPLE PLAYING ON SAME GAMER TAG!

If your interested in joining The Stalker's Den you need to be a friend of someone on platoon and play with 1 or more of us a couple of times to determine wheather your suitible for our party chat, game play, and willingness to always support clan for the win. We don't find you, you find us! This is a casual clan and a number of members belong to compeditive clans like Team Anarchy.

If you really want on have your STALKER'S DEN FRIEND message me to except! Otherwise chances are you will be denied!
Platoon feed
There are no more events to show