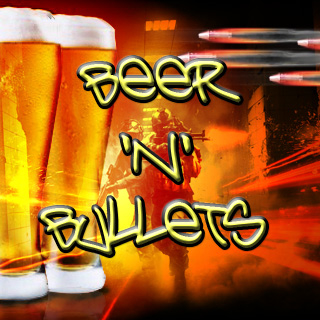 Platoon Presentation
Dissolusioned by the clan scene? Had your fill of the power hungry? Looking for a place just to chill and have a game with no idiots, language police or rogue Admin?

Well this may just be your place to get a game or two. We dont class ourselves as a clan, as we dont do clan wars or war league's. We are a group of like minded individuals who like to have a laugh and play for fun. We want to have a meeting place where we all get along and enjoy the company, a place to share our gaming experiences meeting new friends along the way.

We are now looking for mature admin to help with the running of our busy 64 man conquest server.. Just add sharper-carper, bulletcatcher01, stevetal or any BnB to your buddy list for a chat.
Or apply at www.beer-n-bullets.enjin.com

We dont do hierarchy, what we do is play BF3/4. The server has Four rules No base rape on air maps. No racist remarks, no trolls/twats, and all vehicles once occupied to be taken out of main base, Simple.

Your safety and enjoyment is important to us. This is why we run both PB and GGC live stream to keep out the pond life. Those that get through, are normally picked up by our active admin. In the unlikely event of an admin not being present we also have an hack cry feature where you can initiate a ban/kick vote, giving the hacker no chance and putting the server not the hacker in control....

Our servers have a map vote system, giving you the option to choose what you want to play.
We also run an adaptive server size, this will help to populate and get a good game going quickly. In conjunction with adaptive tickets which keeps the rounds small until more players join.
We also have one of the best team balancers currently on-line. Since we have started to use this latest one, we have had some seriously close games, and consistently too.

Please remember that just because you are on the members list does not mean you are a Beer N Bullets member. Please do not tag up until it has been approved. You need to apply on here (platoon wall) in writing, or visit www.beer-n-bullets.enjin.com and join us on teamspeak 3 for an informal chat. This is essential as we must ensure our administrators and members alike are responsible and well behaved, otherwise it would reflect badly on our server, I'm sure you understand.

We recognise that being a part of our community is not just about wearing a tag, Its about you guys that keep coming back. So this platoon wall will hopefully keep all of our regular players upto speed with whats going on. Its also a place for you to have an input on what you would like to see on your server!

Can I also add that this community would not be such a great place without you guys. You make us what we are, and it's you guys that have put us on the map, so from all the beer n bullets admin, Thank you for your support, Cheers!!

For in game communication feel free to Join our team-speak 3 on the following; 87.117.193.5:10093

Register on our face book page beer n bullets or access our forum on the official website link above.

If you like what we do here and feel that you would like to help contribute in some way, helping towards our server costs can be done via pay pal at beernbullets@hotmail.co.uk it does not matter how small, it all helps. Please also include your player name with any contributions, we will then add you to our VIP slots, just as a little thank you.

Please take your time to register on our new forum http://beer-n-bullets.enjin.com/ and have your say on what you would like to see on your server!

Now let's get a game and have a beer or twelve!


Platoon feed
There are no more events to show