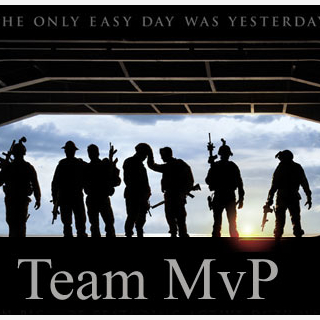 Présentation de la section
M!v!P Comp Team

Prepping for BF4. Gonna see what we're gonna do.

-TS Info: 24.8.3.224:9987 , no password.

-Roster:
MvP-TheMerc- (Coach)
MvP-KeepSix- (QB)
MvP-ACE
MvP-Weind
MvP-i0ri-

-Match Server: http://battlelog.battlefield.com/bf3/servers/show/pc/189aee83-428d-44eb-8cf0-081b71627743/MvP-Drippin-Dat-Chocolate/

-Leagues and Tournaments we have competed in.
C-GL 2v2 B Flag Tournament (Merc&Keep)
CEVO 8v8 Takeover Tournament 2013
CEVO 5v5 Season 2 2013
WEL 8v8 Season 3 2013
WEL 5v5 Season 2 2013
WEL 4v4 Season 2 2013
C-GL 5v5 Conquest Launch Tournament 2013
CEVO 5v5 Tournament Season 1
Note: We are not serious about TWL, it is for shits and giggles and getting some practice in to play.
TWL 4v4 Squad Rush S3 Playoffs
TWL 4v4 League
TWL 5v5 League
TWL 5v5 CQ Tournament
CGL 4v4 Tournament
WOGL 4v4 Tournament
PCGN 4v4 League
PCGN 4v4 Playoff Tournament

-Ladders
TWL 4v4 Squad Rush
TWL 5v5 Conquest IO

MvP Gaming is currently taking a short break from comp play and waiting for the BF4 launch and get our hands in comp play in that. We are still here and very much active, seeking for more committed comp players heading into BF4. If you are interested do not hesitate to talk to one of the leaders or fill out an app; reminder that background checks are enforced.
Feed section
Pas d'autres événements à afficher