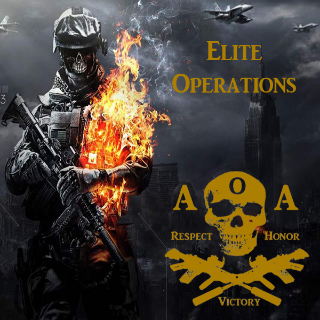 Présentation de la section
YOU MUST BE A MEMBER OF ALLEGIANCE OF ARMS FOR 30 DAYS TO BE CONSIDERED FOR ELITE OPS!

All Elite Ops members are requiered to follow all Allegiance of Arms rules as well as the following:

1.) Maintain a K/D of at least 1.75 (3.0 encouraged)
2.) Maintain a SPM of at least 500 (650 encouraged)
3.) Obtain a Service Star in ALL vehicles and ALL kits
4.) All game updates and expansion packs must be installed within 72 hours of release date.
5.) Absence from a scrimmage MUST be covered by another Elite Ops member.
6.) You MUST play with other Elite Ops members EXTREMELY regularly.
7.) You must be signed up for ALL sites surrounding Allegiance of Arms.
8.) You can NOT reset your stats.

IF YOU RECEIVE WRITTEN NOTICE OF INFRACTIONS FROM MYSELF OR THE CURRENT ELITE OPS LEADER(S) THREE (3) TIMES YOU WILL BE BROUGHT UP FOR REVIEW. AT THAT TIME ALL PLATOON LEADERS WILL VOTE ON WHETHER OR NOT YOU WILL REMAIN IN ELITE OPS.

This team will be taking on all challenges, in all game modes, normal or hardcore. Therefore teamwork is very key. This small group will remain as the ten percenters of this clan. I as well as every Elite Ops member will expect you to perform and behave as such. You WILL be expected to set an example for the rest of the clan.

Clan Matches:
If you would like to set up a match against our Elite Ops division, please contact evilserv--6 through batllelog.




Feed section
Pas d'autres événements à afficher