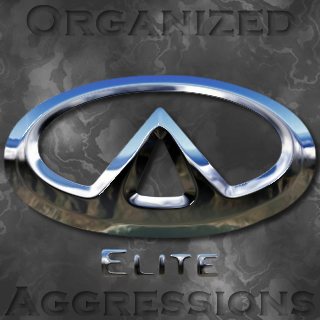 Présentation de la section
ORGANIZED AGGRESSIONS ELITE DIVISION

OA ELITES is an AUSTRALIAN & NEW ZEALANDER based clan. OA ELITES is based on members playing in tournament money earning events and clan battles. They are our proving members in skills and reliability.
We mainly play on HARDCORE CONQUEST MODE on AUSTRALIAN & U.S. WEST SERVERS. If there is NOT a clan battle, clan practice is on FRIDAY for AUSTRALIA, NEW ZEALAND, U.K., and u.s

To enter this clan, we must see how you perform, and review your stats on battlelog. You MUST be 18 or older, then you will be recruited into our other division ORGANIZED AGGRESSIONS, and then in time we will see if you are disciplined and reliable to show up for clan practice, and clan battles, then when a SLOT opens you will be in OA ELITES. Loyalty to one clan is a MUST.

This clan is not for the casual players. If you are not serious, we will know in time, and you will be kicked.

OA organization is based on being a small clan, but well organized. Our roster is of 24 players total, 12 for the OA ELITES and 12 for ORGANIZED AGGRESSIONS. Our method is quality over quantity. Being more focused on individual players specializing in there role, that each player plays there part.

OA ESTABLISHED SINCE 10/27/2011

CLAN PRACTICE TIMES
u.s.SATURDAY 3AM EAST, 2AM CENTRAL, 12AM West
U.K.SATURDAY 9AM
AUSTRALIA SATURDAY 5PM EAST, 4PM CENTRAL, 2PM WEST
NEW ZEALAND SATURDAY 8PM MAINLAND

CLAN PRACTICE TIMES FOR CLAN BATTLES AGAINST U.S. AND EUROPE
u.s. FRIDAY 8PM EAST, 7PM CENTRAL, 5PM
U.K. SATURDAY 12AM
AUSTRALIA SATURDAY 9AM EAST, 8AM CENTRAL, 6AM WEST
NEW ZEALAND SATURDAY 12PM MAINLAND

OA NATION members:
1. AUSTRALIA
2. NEW ZEALAND
3. U.K.
4.

OA ORGANIZATION CLAN BATTLE RECORD TOTAL
WINS 18, LOSS 0

OA ELITE CLAN BATTLE TROPHY
Date, Clan Tag, Name
1. 2/25/12 (CAB) Cut A Bitch
2. 3/03/12 (MNR) Mid Night Riders
3. 3/09/12 (AnX) ANTHRAX
4. 3/17/12 (SB) SNeaKY BasTaRDS
5. 3/24/12 (DHTK) KELEVRA
6. 4/07/12 (MVP) Most Versatile Players
7. 4/07/12 (BOSS) BOSS NATION
8. 7/06/12 (TCT1) (TCT1) 1ST SQUADRON
9. 7/28/12 (GMDZ) GAMINGMODZ INC. (EX-OA MEMBERS)
10. 8/11/12 (PNOY) PNOY/PNAY
11. 10/5/12 (7) Seven
12. 12/1/12 (KAOS) KILL ALL ON SIGHT
13. 1/25/13 (RAYP) RAYP
14. 4/19/13 (AtC) Addicted to Chaos
15. 7/19/2013 (KpGe) KpG Elite
16. 7/26/13 (PT) PHOENIX TACTICAL
17. 8/30/13 (777) 777 PLATOON
OA WAR MUSIC

http://www.youtube.com/watch?v=w0RmMGrvA5k&feature=player_detailpage












Feed section
drowzy1358

IM AN ELITE FINALLY A COUPLE YEARS LATER BUT I AM

MIGHTYSOUTH_1

Your cooked BF3 is over borther lol but congrats lol but later today need list of players roles for clan battle coming up and whos in and out and on stand by just incase

I had fun guys but i will be leaving, hope you guys win lots of clan battles in bf4

Hey strat cant make it to practice just keep me updated

Hey guys just wondering whos the next clan we going against dont worry guys il get og_rowie out the battles its all gd lets get our 20th straight win 2 more cvc ;)

GREAT VICTORY GUYS, ANOTHER VICTORY WON!!! THANKS TO ALL THAT SHOWED YOUR SUPPORT!!! BE PREPARED FOR THE NEXT CLAN BATTLE, NEXT WEEK!!!

CLAN BATTLE AGAINST KpG Elite WILL BE ON JULY 6TH FOR AUSTRALIA, PLEASE LEAVE A COMMENT BELOW IF YOU CAN'T MAKE IT...

won't make it tonight if there is anything on going out for dinner

Might not make it to meeting going out for lunch don't know how long for though

we have clan practice this week?