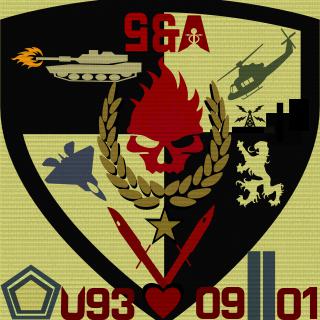 Présentation de la section
SHOCK AND AWE (Technically known as rapid dominance), is a military doctrin based on the use of overwhelming power, dominant battlefield awarness, dominant maneuvers, and spectacular displays of force to paralyze an adversaries perception of the battlefield and destroy it's will to fight. The doctrin was written by Harlan K.Ullman and James P.Wade in 1996 and is a product of the National Defense of the United States of America.


We are a recreational oriented based platoon. No ambitions of entering any professional money tournaments on any scale. Solely for fun, but still very competitive none the less.

GENERAL RULES:
* No racism / "hate" or gender disrespect to anybody.You are personally held responsible and accountable for any actions taken on your personal communication account forums; Via XBOX, BF3 Battlelog, email. ect... Associating a family member, spouse, significant other, or friend.Or if the contact account forum is indirectly related to you by the above mentioned relationships. This applies to all rules in the SAA Platoon Presentation.
* Do not criticize or make negitive comments to team members or other Platoons or Squads.
* Do not impose your judgments on teammates methods of play.
* No cheating / boosting, or corroborating with the opposition.
* Group cooperation / teamplay is esssential. And compliance to the command structure set forth in placement.

OPTIONAL RULE:
* Teabagging is frowned upon by our team members to our adversaries, unless it is instigated by the other team; Then the gloves are off, and it's an eye for an eye.

PARTY CHAT RULES:
* Please try and avoid topics on politics / world regional policies,religion, and sexual orientation; Everyone is always still free to discuss any and all of these topics stated and not stated. But if you do, Go into private chat please be sensitive, respectful, and understanding to others feelings who stand on their opinions.
* If the party is 4 people or less, chit chat / conversation is fine.
* Parties 5 or more, please try to keep chit chat to a minimum so people can communicate about the round at hand.
* No matter on party size, if someone is trying to communicate about the game, let them butt in / interject on your chit chat to address somthing pertinent to the match.
* Let others speak if you hear someone struggling to get a word in.
* If a party has members in multiple games and it is confusing the game play, please split the party up.
* And explanations of what you plan to equipe your gear/setup is not necessary troughout the game every minute, and a concise replay of how you got killed every time, it is not important.
* Please try not to complain and let you frustrations get the better of you, and try and controll that rage possibility.
* Stay focused on the objectives at hand to help support our team to victory.

~OUR PLATOON HQ OPERATIONS BASE~
Los Angeles, California, United States of America

~OUR PLATOON COMMAND STRUCTURE~
- [FCO] ROZZIO *****
- [LCO] Duchess0fMetal****
- [LCO] lord0fMetal***
- [LCO] MESH ONE ***

~OUR PLATOON CODE~
* This team is based on:
(1) Honor, Loyalty, Commitment.
(2) Mutual respect to all of our members.
(3) Teamplay / following designated squad orders, Alpha--Hotel by the assigned squad leader.
(4) Gamesmanship to our opponents.

~OUR PLATOON CREED~
A team functions and win's as one; Oneself can fail individually without the team, or we all go down as a group.
But a cohesive team can only excel learning from their conflicts as a unit.
- Ross P.Scaffidi 2011

~OUR PLATOON MOTTO~
" If you don't stand for something, you will fall for anything."
- The Rev. Peter Marshall 1947

~OUR PLATOON COLORS~
(1) Shadow Ops. Black : For the stealthiness we posses.
(2) Sand Khaki : For the beaches we storm.
(3) Blood Red : For the carnage we inflict.

~OUR PLATOON SONG~
Sympathy For The Devil: by The Rolling Stones 1968
( Jagger / Richards )

[ 2nd Verse of Sympathy For The Devil ]
" I stuck around St.Petersburgh when I saw it was time for a change.
I killed Tzar and his ministers Anastasia screamed in vain.
I road a tank held a Generals rank when the blitzkrieg raged and the bodies stank."

" Pleased to meet you, hope you guess my name."

~OUR PLATOON MASCOT~
* The Indian Gray Mongoose.* ( Named : Rikki-Tikki-Tavi )
For it's; Cunningness of Prey, Unassuming Size, Lethal Strength,
Overwhelming Speed, Fighting Agility, and Combating Endurance.

[ HISTORICAL NOTE ] The Phrase," Ricky-Tic," is commonly used in the US Military as a slang term for "quickly;"
This is likely an abbreviated form of Rikki-Tikki-Tavi, reffering to the mongoose's speed.
Rikki-Tikki-Tavi is a short story in the Jungle Book (1894) by Rudyard Kipling, Dec.30th 1865 - Jan.18th 1936. (70)
About the adventures of a valiant young mongoose.

[ EXCERPT FROM THE JUNGLE BOOK : RIKKI-TIKKI-TAVI ]

At the hole where he went in Red-Eye called to Wrinkle-Skin.
Hear what little Red-Eye saith: " Nag, come up and dance with death! "

Eye to eye and head to head; ( Keep the measure Nag.) This shall end when one is dead;
( At thy pleasure, Nag.) Turn for turn and twist for twist, ( Run and hide thee, Nag.)
Hah! The hooded Death has missed! ( Woe betide thee, Nag! )

ENDING:
* I hope everyone can abide by these rules in place; If anything is to be deemed out of conduct, members can go to the leaders or the founder and report their situation. If one of the leaders is contacted, then it is the obligation of that leader to notify the founder. Then the offending party/s would then be notified. A three strike policy will be implemented via, (2) notices will be given.If a (3rd) has to be applied then a decision would be made by the leaders in position, with the founder overseeing the outcome. If the judgement is expulsion, then you would unfortunately be dishonorably discharged in SAA and permanently void any remembership possibilities of any future applications to Shock & Awe. The entrance and expulsion process will be governed by the leaders in position at the time of reviewed action/s, with the founder overseeing the rendered decision.The founder has the authority to veto any judgement's made by the leaders if a bias is suspected. There is a clause inplace regarding the three strike rule, depending on the circumstances; If it is warranted that the violation is too severe, then that can be just cause and reasonable grounds for immediate termination of membership in SAA.

NOTE : THE [FCO] RESERVES THE RIGHT TO MAKE ANY FUTURE AMENDMENTS TO THE SAA PLATOON PRESENTATION AND IT'S RULES AT ANY GIVEN POINT OF TIME IF WARRANTED FOR CLARITY.

To all new SAA members; Welcome to Shock & Awe. Let's be friendly and enjoy ourselves in each others company, socializing in this "game".

- Sincerely, your Platoon Founder and friend, ROZZIO / RossScaffidi1964. [SAA. Est.] November 10th. 2011

" NOTE : THIS SAA PLATOON PRESENTATION AND THE SAA PLATOON EMBLEM, ARE NOT TO BE EDITED OR ALTERD IN ANY FORM OR FASHION WITHOUT THE EXPRESSED CONSENT FROM THE [FCO] ROZZIO.*****."

This Platoon site is dedicated to the memory of the victims of September 11th. 2001 terrorist attacks.
Feed section
Pas d'autres événements à afficher