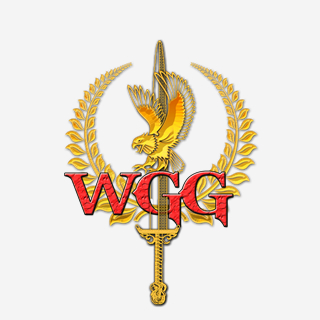 Platoon Presentation
Important! Being accepted in the platoon doesn't mean you can wear our tags!

Welcome to the platoon page of Wise Guys Gaming [WGG]

WGG is an active European community of PC gamers, who prefer to play FPS games.
We started a year ago and now have members from various countries across Europe.
We strive to have active servers with active admins.
We are an easy going and play-for-fun clan, and although we're play-for-fun,
We are also quite competitive. WGG organizes all kind of events! Ranging from in house matches
to matches against other clans.

This is what we offer our members:

- Active servers
- Active Teamspeak
- Active Website
- A dedicated officer team
- Friendly, positive gaming atmosphere against players
- All sort of events.

Our rules
We have some basic rules that apply to everyone who is involved with our clan;

1. Be respectful at all times to other members in the clan and players in our servers
2. You MUST wear the WGG clan tag at ALL times (why wouldn't you?)
3. Be active on the servers, forums and in our TS
4. Take part in events and play alongside your squad mates in game, enjoy it!
5. Lastly, enjoy and have fun!

PLEASE NOTE to be able to join us you should be;
- Of the minimum age of 18 or show exceptional levels of maturity
- In possession of a Headset and TS
- Able to speak English as we are an English speaking clan, but if you do struggle - don't worry as we will help you as MUCH as possible!


If this sounds good to you! Join us on one of our servers and talk to us on Teamspeak!
Also have a look at our website!
At the bottom of the page you can find our server details and TS details.


These are our Battlefield 3 servers and our TS server.

TDM HC, 24/7 Noshahar:

http://battlelog.battlefield.com/bf3/servers/show/
21b34861-567d-45e4-bae9-6a9f99062d72/WGG-TDM-High-Tickets-Hardcore-24-7-Noshahr/


Conquest HC 32 slot Firestorm, Caspian, Kharg:

http://battlelog.battlefield.com/bf3...-5b15ce1bd300/
WGG-Conquest-Caspian-Border-Operation-Firestorm-Hardcore/

Our B2K server 24 slot ( this is also our event server)

http://battlelog.battlefield.com/bf3/servers/show/22115119-b9b0-4cc7-920d-787163781a60/WGG-Back-to-Karkand-ALL-maps-HC/

Our TS:

85.236.100.27:28297 Pass: Ask one of our members!
Platoon feed
There are no more events to show