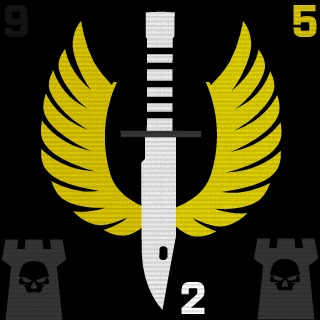 Rolling Soldiers
Tag:
[RS]
Fans:
3
Created:
2011-11-01
Platoon Presentation
ENG:
Hello to you visitor, Hello to you visitor, the platoon you're seeing is trying to become one of the most serious and valid for Battlefield 3. The rules are simple:

(1: Maximum respect for comrades
(2: Team Play [where possible].
(3: Nothing noobs / children / etc ...
(4: Age 14 years or over [for the reason mentioned above]

There are also obligations mimetic (obviously not a requirement until the unlocked
Woodlands: Jungle Scheme or Military Green
Urban Areas: Black Camouflage Ranger or Special Forces
Desert areas: Khaki or Desert Expeditionary Force

There are also tips on weapons:

Assault: M416 (U.S.) AEK-971 or AN-94 (RU)
Engineer: G36C both sides
Support: M60E4 both sides
Scout: M39 or M98B both sides.


ITA:
Ciao a te visitatore, il plotone che vedi sta cercando di diventare uno dei più seri e validi di Battlefield 3. Le regole sono semplici:

(1: Massimo rispetto nei confronti dei compagni
(2: Gioco di squadra [ove possibile].
(3: Niente nabbi/bambini/bimbiminkia ecc...
(4: Dai 13 anni in su [per il motivo citato sopra]

Ci sono pure obblighi di mimetica (ovviamente non è un obbligo finchè non le sbloccate:
Aree boschive: Schema Giungla o Verde militare (verde militare finchè tutti non sbloccano schema giungla)
Aree Urbane: Nero forze speciali o Mimetica Ranger (mimetica ranger finchè tutti non sbloccano la Nero forze speciali)
Aree desertiche: Cachi Desertica o Forza di spedizione (forza di spedizione finchè tutti non sbloccano la Cachi Desertica)

Ci sono anche consigli sulle armi:

Assalto: M416 (US) Aek-971 o AN-94 (RU)
Geniere: G36c entrambe le fazioni
Supporto: M60E4 entrambe le fazioni
Scout: M39 o M98B entrambe le fazioni.
Platoon feed
There are no more events to show