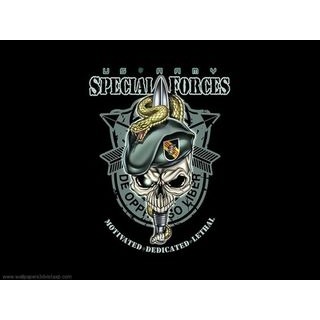 Презентация взвода
United States Army Special Forces, 1st Battalion, 5th Special Forces Group (5th SFG) stationed at Fort Bragg, North Carolina. We are part of the Joint Special Ops Command(JSOC), codenamed Group for Specialized Tactics(GST).

We fear no one. And we will leave nothing but ashes behind when we are done. We gain strength, and courage, and confidence by each experience in which we really stop to look fear in the face, where we must do that which we think we cannot. HOOAH!"


"War is a country of will, there is no room for sympathy. If you are not willing to give everything, you already lost." - NEMESIS_Sentinel

"All great things are simple, and many can be expressed in single words: Freedom, Justice, Honor, Duty, Mercy, Hope." - NEMESIS_Sentinel
http://www.youtube.com/watch?v=ScNNfyq3d_w

"No no no, it's not about that memory, it's about showing who we are to the world. Showing we'll not be bowed by tragedy. Because how we are in the future will be founded on how we behave today."  - Integra_Ex

"When life gets hard, fuck it!" - Clausner


This Platoon is for all gamers, and is no place for any name-calling or self-labelling like noobs or pros. Any disrespect will earn a kickout from the platoon. Any bullshit involving politics among members is also prohibited. We are a family that works together PEACEFULLY.
We are a normal gaming platoon which SCRIMs, and in the future will do competitions as a team and PTFO. We are not be best out there, but that won't stop us anyhow.

-We have the objective of forming this platoon for the sole minded purpose of bringing similiar minded people to meet and play together, and most of all have fun when needed to, and be serious when called for.
-Joining competitions is not the aim now but will be considered should the time comes and conditions allow for it.
-Any member may invite anyone who they think is suitable and represents the spirit of this platoon.

Our official combat squads include NEMESIS for BF4, Ghost_Recon (GRec) for BF3, and N7 Spectre TH (N7), while our affiliate partners are Special Air Service platoon (SAS), and are friendly with Vantage Elite (vE).

To all those who don't have have a Platoon Tag in front of their names, Platoon Members are required to go to Edit Profile page, and under soldier settings, Put "GRec" as their clan tag. Those who are part of N7,DGr8 and SAS, it's okay. But you can change if you want. Thank you for your coorperation.


NEMESIS is now under SpawnPointGaming, a Gamer Community Group.

Our training servers are:
1. http://battlelog.battlefield.com/bf3/servers/show/40573e5b-e979-48be-b9e3-9139df7e9ae7/Training-War-Server-SG1-SpawnPoint-Gaming/
2. http://battlelog.battlefield.com/bf3/servers/show/ddbf2118-70ba-4ece-9d2e-153e7a0cd058/Training-War-Server-SG2-SpawnPoint-Gaming/

Echelon_SG has also rented a server which we can use anytime anywhere. Feel free to join.

Both are password protected. Please PM me for Info.
New members/interested parties, please add NEMESIS_Sentinel. (http://battlelog.battlefield.com/bf3/user/NEMESIS_Sentinel/)

Kit
Top Assault : NEMESIS_Clausner
Top Engineer : devilightining1
Top Support : I0_Archangel_0I
Top Recon : I0_Archangel_0I

Vehicle:
Top MBT : KUROTANK.
Top IFV : Fallen_Eaglez
Top AA: Hidden_J0ker

Aircraft:
Top Heli Scout : Ner5eqpwn
Top Jet : Genius-Agentsoft
Top Attack Chopper : armedman73

Others:
Top Melee Attacker: Ner5eqpwn
Top Skill: Fear_Deaths
Top Accuracy: Fear_Deaths
C4 Specialist: Killer_Sentinel
Longest Headshot:: pinchakko
Highest K/D Ratio: Integra_Ex
Sexiest Player: Pieattack

TOP NOOB PLAYER: Sevrnce :P

Training Staff:
-Integra_Ex, contact me for any questions.

Take note, Training time is 9PM(UTC+8), 2 random dates twice a week(wait for updates on GRec page) Those who are available please be on time and present. Ask me for password entry once i posted the selected server on platoon feed.

Voice comm : For those who is yet to download Raidcall here is the link http://www.raidcall.com/download.php we will be using this temporarily. Once downloaded go to our group GRec channel id number 4837260.

Next Training Date: Stay tuned.