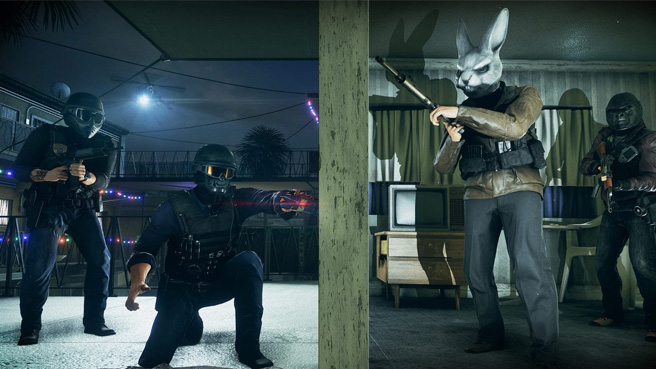 From July 26 to August 2, you can get Battlefield Hardline: Criminal Activity for free*. Take down anyone who gets in your way in four new maps, and try out the new Bounty Hunter game mode. But don't delay, because you only have until August 2 to make it out with this bounty. For more information and links to download, head over to the Road to Battlefield 1 page.
Four Explosive Maps

Take on the streets with Backwoods, Code Blue, The Beat, and Black Friday. The cops think they own the streets. The criminals won't let anything get in their way.

New Game Mode: Bounty Hunter

A high intensity infantry focused mode that pits the teams in a war to collect the other team's bounty coins. When a player is taken out a team-colored coin is dropped in the world by their body. When an enemy coin is collected it is added to your team's score.

New Masks

Make a style statement with four cop helmets or hide behind two criminal masks including a rabbit and a gorilla. Each comes with a different XP boost to symbolize your play style.
Community Mission: Vehicle Kills
Hit the streets in any Battlefield Hardline's multiplayer mode and map and collectively score 4 Million Kills from Vehicles to get $100.000 in-game cash**. This mission is active between July 26, 2016 9AM PT and August 2, 2016 9AM PT.
This is just the first step on the road…
There's more, too. Check back here every few weeks to see what's available for free, and keep an eye on Battlefield's Twitter channel to find out about upcoming 2X XP events, community missions, and more reasons to join us on the Road to Battlefield 1.
*THIS OFFER IS BEING ISSUED TO YOU FOR PROMOTIONAL PURPOSES ONLY AND DOES NOT HAVE A CASH VALUE. OFFER VALID FROM JULY 26, 2016 0900AM PT TO AUGUST 2, 2016 0900AM PT. VALID FOR NEW PURCHASES OF BATTLEFIELD HARDLINE: CRIMINAL ACTIVITY EXPANSION PACK DIGITAL DOWNLOAD VERSION ("PRODUCT") ONLY FROM THE ORIGIN STORE AT www.origin.com, THE ORIGIN CLIENT SOFTWARE (www.origin.com/about), PLAYSTATION® STORE, AND XBOX STORE. CUSTOMERS ARE RESPONSIBLE FOR APPLICABLE SALES TAX. BATTLEFIELD HARDLINE FOR APPLICABLE PLATFORM (SOLD SEPARATELY) REQUIRED TO PLAY PRODUCT.
**THIS OFFER IS BEING ISSUED TO YOU FOR PROMOTIONAL PURPOSES ONLY AND DOES NOT HAVE A CASH VALUE. OFFER VALID FROM JULY 26, 2016 9AM PT TO AUGUST 2, 2016 9AM PT. REQUIRES BATTLEFIELD HARDLINE ("PRODUCT") ON APPLICABLE PLATFORM, INTERNET CONNECTION, EA ACCOUNT, AND (FOR CONSOLE PLAYERS) AN XBOX LIVE GOLD OR PlayStation Plus ACCOUNT TO PARTICIPATE AND ACCESS IN-GAME CONTENT. BATTLEPACK MUST BE CLAIMED IN BATTLELOG PRIOR TO END OF MISSION. VALID WHEREVER BATTLEFIELD HARDLINE IS OFFERED. LIMIT ONE PER PERSON. MAY NOT BE COMBINED WITH ANY OTHER OFFER, GIFT CARD, REBATE OR DISCOUNT COUPON. VOID WHERE PROHIBITED, TAXED OR RESTRICTED BY LAW.