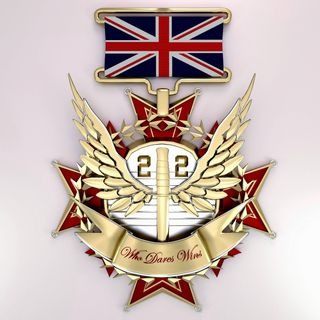 Platoon-Präsentation
!! WEBSITE NOW UP !!

OUR SERVER: search 22nd on PS3

The 22nd Special Air Service Regiment was founded by Colonel Sir Archibald David Stirling during WWII.

It's small band of elite soldiers are regarded as one of, if not the best special forces units in the world.

Only the best of the best need apply for the Special Air Service. The selection process is one of the toughest in any military worldwide and the vast majority of candidates fail it.

Commonly referred to simply as "The Regiment".

22nd "The Regiment" :

Roll Call :-
General : drix04
Leader : carpe_
Leader : Rusty_B52
Leader : bladedharbinger
Leader : yevve

pyranha1O
gzito123
venger81psn
Indespeo
Exotic-Caravan
admrilackbar
zalewskitsf10
MrClungeBucket
PSN-trebor-2
djklaatu
Balki_AUT
Ecko_United90
laurance18
187_DarKPhoeniX
the_glassman1
chefkoos
Britishassassin
SnakeInTheGrass
ToonArmyNuFc-198
NightSunRising
MKraut
Subzero-mini-mav (platoon mascot)

REQUIREMENTS FOR OUTSIDE APPLICANTS :-
- ACTIVE 3-5 TIMES A WEEK
- BATTLELOG ACTIVE
- LEVEL 45 (EXCEPT FRIENDS)
- WORKING MIC
- SPEAK ENGLISH
- SPM 400+
- 18 YRS +
- Understand tactics and act on them

We work together with the 23rd TA SAS, our sister platoon, they are recruiting :-
http://battlelog.battlefield.com/bf3/platoon/2832655241355243455/

Friendly Platoons:

[TDR] - The Devil's Rogue
[J4F] - Just 4 Fun
[187] - Phoenix Of Darkness
[5th] - belgian paracommando's

Honorary Members / Mentions :-

- Eval_Hell (Founder of the 22nd)
- tm_Mrk_zlw (Creator of Platoon logo and Member Avatars)
- Rusty_B52 (Creator of the Platoons official website)
- TommoXTM (Founder of the 23rd)
- Subzero-mini-mav (22nd mascot)

22nd "The Regiment" on Facebook :-
http://www.facebook.com/groups/177539699030194/

22nd "The Regiment" History :-
http://en.wikipedia.org/wiki/Special_Air_Service#22_SAS_Regiment

Platoon Rules :- No Boosting, No Racism, No Bitching - Check our Website Forum once a week.

WHO DARES WINS!
Platoon-Feed
Keine Ereignisse zum Anzeigen vorhanden