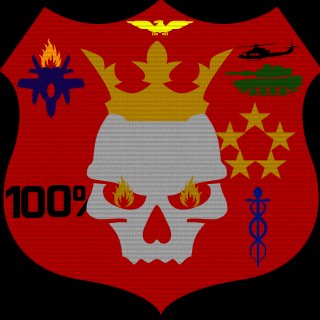 Platoon Presentation
We are about teamwork, respect, destroying and being the best at what we do. The emblem I created means:
1. Jet & Helicopter means we own the air.
2. 5 stars means we are top rank.
3. 100% means we try our best.
4. Tank means we own the ground.
5. The skull means we are the Grim Reapers.
6. The medic symbol means we look after and protect our friends.
7. The bird means we see everything on the BATTLEFIELD.
Platoon feed
so I haven't gotten hate mail in a long time, the all of a sudden, I get a shit load of hate mail in 2 days!

I swear, I'm the only person who chases a chopper around the map trying to shoot it down with a crossbow.

How the [Grim] Reaper clan was formed: It all started almost 3 years ago. I was playing MW2 and I liked having the commando perk, and the two running perks. The commando perk allowed me to knife someone from 10 feet away. My clan tag was [TlTS], but I changed it to [Grim] because the Grim Reaper only needs to touch you to kill you. In MW2 all I needed was to be within 10 feet from a person, and they immediately dropped dead. So in a way, I was like the Grim Reaper. my friends, when they played MW2 on PSN with me, would change their clan tag to [Grim] so others would know we were a team. Over time, I decided to make it official, and call ourselves the [Grim] Reaper clan. If you think it's a "cheesy" name, then maybe this will change your mind. It would be a cheesy name if there was no reason why I called it the "[Grim] Reaper" clan.