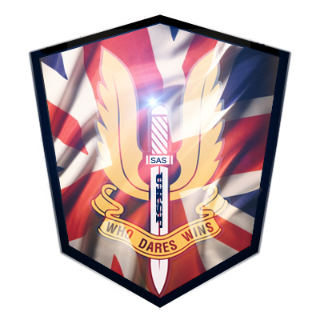 Platoon Presentation
Welcome to UK Special Forces

We shall not flag or fail. We shall go on to the end. We shall fight in France, we shall fight on the seas and the oceans, we shall fight with growing confidence and growing strength in the air, we shall defend our island, whatever the cost may be. We shall fight on the beaches, we shall fight on the landing grounds, we shall fight in the fields and in the streets, we shall fight in the hills; we shall never surrender.

Please check our Official Website for all information and rules..

The UKSF has its own official youtube channel, where most battles will be uploaded too, link is http://www.youtube.com/user/OfficialUKSF/featured

============================= UKSF LEADERS AND THEIR ROLES =========================

Tackyglue25 ..........Infantry Squadron Leader

Daveb1v...............Spec-Ops squadron Leader

ONErealOLDgit......Armor Squadron Leader

Pj-Elsey...................Air Squadron Leader

d0cw1ls0n..............Platoon Admin


============================== PLATOON EMAIL ADDRESS'S ==============================

1. UKSF1@englandmail.com
2. UKSF.Recruitment@englandmail.com

=================================== UKSF SERVERS: ===================================

1. Server name is 'UKSF' rental runs out mid December, current running the Armoured Kill map rotations but will be switched on random days to BF3 conquest or rush.

!!!!!!!!!!!!!!!!!!!!!!!!!!!!!!!!!!!!!!!!!!!!!!!!!!!! DO NOT SPAWN KILL/TRAP ON UKSF SERVERS !!!!!!!!!!!!!!!!!!!!!!!!!!!!!!!!!!!!!!!!!!!!!!!!!

================================= CLAN BATTLES INFO =====================================

Match organiser........ONErealOLDgit

FraggedNation Squad Rush Team : UKSF
Platoon feed
Are we active again? I'm back on BF4 for PS4

Show 4 more...

pj-elsey

Would be nice to have our infantry leader back :) May have to give up my air leader position soon, I'm no good in the new choppers.

Threeknees

PS3 for me for the foreseeable future...;0(

is there many people getting bf4 for the ps3?

Anyone still using battlelog? Can I get a Hooah!?

Battlefield 4: 1) Controls are different but alright, square now gets in and out of vehicles which me and Mighty learnt the hard way whilst plummeting towards the floor in a burning scout heli 2) Scout heli can't do damage to tank which is wrong 3) Tank guns are next to useless against infantry 4) ALL infantry and take down a tank 5) Recon kit is useless 6) Unlocking stuff again feels weird 7) Feels a bit laggy at times and that's on a full signal server 8) Ranking up and unlocking new bits of kit and weapon accessories takes ages! I've played for nearly 4 hours and haven't unlocked squat for a gun 9) Lots of cool little features, elevators to roofs etc 10) There are "power weapon" pick ups that spawn randomly on the map which add a nice change to the game All in all its pretty good, still got a bit of a way to go before its the best it can be but when bf3 beta came out there was loads of glitches and even when the actual game came out it needed fixes. Should be good lad

ODBlackout

Also if you make an emblem on the battlefield 4 battlelog it carries over in to the game. I made one and it appears on the tanks when I get in it, don't know if anyone else can see them though but they are there on my screen!

Just been on BF3 and a message came up saying that if you preorder BF4 on PS3 then when PS4 comes out you can upgrade your game to that version for just $10.

Some great games lastnight lads, even tho rivern ruined me haha.

Bad news everyone. due to recent issues I have no internet so I've not been able to get online...on a better note my PS3 is back up and running.

Good news everyone.....I've finally bought a mic! So now you can all sit back and listen to the sweet dulcet tones of me swearing like a trooper everytime I get killed.