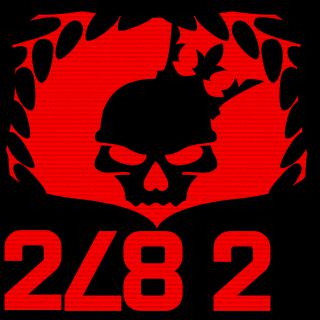 Platoon Presentation
This is the EU competitive side of 2L8 2 if you are accepted your Chain Of Command will be GhostWarriorX20 ... .....This Platoon is invite only.... You will work as a team, Fight as a team and communicate as a team. Any failure to do so will equal a kick from this platoon. You will listen to your given Squad leaders as they are leaders for a good reason. The players within this team will go up against some of the best teams in the world so we require you to be active! Again failure to do so results in a kick from this platoon! NO EXCUSES! We are not better than any platoon until we beat them, every team has a good chance at winning and lessons will be taken from any/all defeats, We won't make excuses and try our hardest to keep ALL scrim arrangements.
---------------------------------------------------------------------

IF YOU ARE UNABLE TO PLAY MATCHES/TRAINING FOR ANY REASON PLEASE MSG YOUR SQUAD LEADER ASAP!
---------------------------------------------------------------------
Chain Of Command!
Founder (Gets the final say but will listen to everyone's opinions, and is in full control of the clan.)

Leaders (Can recruit others with no questions asked, are/should be server admins and can set up clan matches.)

Members (Can recruit others after they get leader/founder approval, any other powers require me to grant them.)


Members of this platoon are required to check battlelog and the website as often as possible for match and training updates.

We are not now that strength which in old days
Moved earth and heaven; that which we are, we are;
One equal temper of heroic hearts,
Made weak by time and fate, but strong in will
To strive, to seek, to find, and not to yield."

Challange us now on HardcoreBattlefield.com and scrim us..... and hardcore united league

If there is any issues please contact D0dodo and i shall sort it asap

ALLIES/FRIENDLY PLATOONS- MDK (Murder, Death, Kill)

Link to 2L8 (US): http://battlelog.battlefield.com/bf3/platoon/2832655241595700742/

Recruitment Threads:

http://battlelog.battlefield.com/bf3/forum/threadview/2832654348474535053/

Please comment as often as possible.

To find our server- EURO ONLY--2L8 CLAN

SERVER/[2L8]HC End Game-Mix game modes/maps

Youtube: http://www.youtube.com/user/AkAxsMaLLzZ?feature=watch

http://www.youtube.com/watch?v=fdNe7G-n6eM

Make sure to like, subscribe,enjoy.