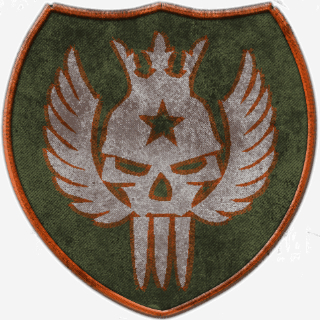 Platoon Presentation
http://www.youtube.com/watch?v=ZRIMq4pvZj4

OCCIDERE // CAPERE // REPETERE

[ NULLA CAPTIVIS ]

WE ARE STRICTLY LOOKING FOR PLAYERS WHO KNOW WHAT IT
TAKES TO WIN. HOW TO PLAY AS A TEAM AND PLAY FOR EACH OTHER. YOUR K/D
MEANS NOTHING WHEN YOU LOSE. YOU RANK MEANS NOTHING WHEN YOU LOSE.

************************************************************************************
******************************** PTFO OR GTFO *********************************
************************************************************************************

Join our Platoon if you:
a) PTFO
b) Like to work as an integral member of a squad.
c) Have a mic and communicate
d) Have one of the following:

1) A computer (PC/Mac/Linux) with LAN connection and a headset/bluetooth
2) An iPhone/iPod/iPad with LAN connection and a headset/bluetooth
3) An Android device with LAN connection and a headset/bluetooth

We use Teamspeak because it is far superior to the in-game VOIP in many ways. You have to try it to appreciate it.

If you are a team player, we want to game with you. While squads are still limited to 4 players,
there is no communication limit while using Teamspeak. You could effectively have 3 squads
all communicating in concert in one match.

If this sounds great to you, please visit our website by clicking the "Official
website" link at the top of this page or pasting the following URL into your
browser's address bar: http://fkuplatoon.com. Once you create a verified
account on our site, please visit our forums and introduce yourself.

For those who have not yet played with the leaders of the FKU platoon(s),
we are typically on most days 2200 to 0300 PST (0600 - 1100 GMT)

Thanks for reading, and happy gaming!

DJ__Quest & Queen__E3

http://s06.flagcounter.com/count/U30O/bg_6E0000/txt_FFFFFF/border_CCCCCC/columns_5/maxflags_50/viewers_Visits+by+Country/labels_1/pageviews_1/flags_1/.png


Platoon feed
I have faithfully worn the FKU tags for almost Two years now. I can't deal with this bullshit. We all communicated tonight but being tired, u tend to get a little less talkative. Fuck it, call me out like a bitch. Guess you weren't on 5 hours ago.

Show 16 more...

jsfulk326

Quest, I said that I was done talking about the other night and I am. You have however brought up a very important statement. To think that there is more than just gaming happening with FKU is a very true statement. Most often w

jsfulk326

I get tired I get quiet. Queen, Quest and the rest of FKU I'm sorry for my actions. I due want to be apart of FKU but cannot under the current conditions. I see FKU as a group of guys and girl that are friends who game for more

Quest, I am curious! Who is Redtail? Some recent research has revealed he may be the reason for NBK trolling. We can talk more tonight.

Looking for a good night of gaming. Gaming with adults is a lot more fun than shit talking juveniles. Funny, shit. SpaceBallsnCock, oh yeah, troll this!

ROLL CALL FOR TONIGHT (Sat., Aug. 31, 2013). Comment/Hooah below.

Pfcsalamander

my mic broke so i got a wireless one. so ill be on Ts but to hear yous guys. ill be on voip

Roll Call for Aug. 23 anyone on Tonight?