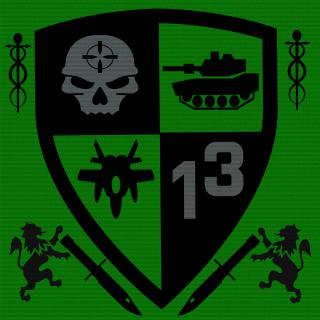 Platoon Presentation
Force No Friend,Fear No Foe..Section Thirteen Est:2009

Section Thirteen Recruitment requirements:
1:Must be 16+
2:Own a mic.
3:Have battlelog and be active on it.
4:Wear clan tag [S13]
5:Wear Section Thirteen Uniform:Army Green.
6:Not be a member of any other Battlefield clan.
7:Be Loyal,Respectfull & Trustworthy.
(We are looking for committed players only.)

Section Thirteen Clan meetings held in our PS Home club house every Sunday.

Section Thirteen Clan Allies:
[MyN],[ANZ],

S13 Platforms:Battlefield Bad Company 2,Battlefield 3,PS Home..

(Note)Battlelog background cheaks will be done on all new members.
Platoon feed
There are no more events to show