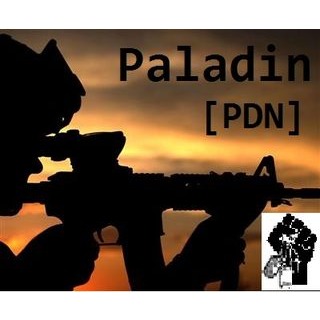 Paladin
Tag:
[PDN]
Fans:
22
Created:
2012-04-08
Platoon Presentation
The Paladin (PDN) Platoon


INTRODUCTION
A Paladin is a virtuous warrior. An elite soldier, incapable of being corrupted, who fights for all that is good and honorable. Paladins have roots that extend far back into history.

We are a group of players who enjoy the game. We are laid back, informal, and just like to play. We work well together, but don't mind it when a member wants to do their own thing. We have a number of really good players, but value good online friends more than statistics (stats). We play on the PlayStation 3 (PS3) platform.

As a platoon, we look for other players that are like us. We have no entry requirements, such as a high kill/death ratio (KDR) or a high score per minute (SPM). We are too laid back for that. Jerks need not apply. Generally, we do want our members to have a headset.


THE RULES
What WILL Get You Kicked From The Platoon
1. Being a jerk.
2. Saying anything racist.
3. Being disrespectful to another platoon member.
4. Team killing (on purpose) another platoon member.

What WILL NOT Get You Kicked From The Platoon
1. Having poor stats.
2. Not adding platoon members to your PS3 friends list. Your PS3 friends list is your business.
3. Not playing with other members of the platoon. We like playing together, but it's OK to do your own thing too.
4. Not playing for awhile. When members who haven't played for awhile come back to the game, we quite enjoy their company.
5. Being a member of another platoon. We are too laid back to worry about you being part of another platoon.
6. Not making our platoon your primary platoon. See comment above about being laid back.
7. Not using our platoon tag. Ditto on comments about being laid back.

If you enjoy playing with a good group of online friends, check us out.


CO-LEADERS
Both meticulousdragon and filipine_machine are co-leaders of this platoon.

This platoon was founded by meticulousdragon. This is his Origin / Electronic Arts (EA) identification (ID) as well as his PlayStation Network (PSN) / Sony Entertainment Network (SEN) online ID. If you have any questions, send him a PS3 message.

This platoon is also led by filipine_machine. He is a co-leader and, as such, is to be given the same respect as a founder.


SETTING UP YOUR PLATOON TAG
Becoming a member of this platoon does NOT automatically make "PDN" your platoon tag. Making this platoon your primary platoon does NOT automatically make "PDN" your platoon tag. The Battlelog system requires you to directly edit your platoon tag. To make "PDN" your platoon tag, follow the steps below.

1. Login to Battlelog.
2. Find the icon for your Origin/EA ID towards the top, right. When your cursor is above this icon, a pop-up message that says "Your profile" will appear. Click on this icon.
3. Click on "Edit profile". This will be towards the left.
4. Next to "Soldier settings", put in your platoon tag of "PDN". For our platoon tag, all letters are uppercase.
5. Towards the bottom of the screen, click on "Save".


ANOTHER WEBSITE FOR BATTLEFIELD 3 STATS
The Battlelog website is not the only place for Battlefield 3 stats. Below is a website that many players like to use. This website also includes easy to use graphics that can be included in your signature.
http://bf3stats.com/


HOW TO PLAY WITH FELLOW PLATOON MEMBERS WHO ARE NOT ON YOUR PS3 FRIENDS LIST
For this, check out the link below.
http://battlelog.battlefield.com/bf3/forum/threadview/2832654625159894393/


AN IDEA EVERYONE IN A PLATOON SHOULD SUPPORT
They have not made it easy to play with fellow platoon members! Many other games allow you to directly invite all fellow platoon members to your squad and games (even if they are NOT on your console friends list). They should allow us to do this in Battlefield 3! This idea has been posted on the official feedback website for Battlefield 3. You can support this idea by going to this website and (1) clicking on "+1" which indicates you support this idea and/or (2) leaving a supportive comment in that thread. For this idea and its thread, see the link below. If prompted to login, use your Battlelog login. Also feel free to copy and paste this message wherever you think it might garner support!
https://getsatisfaction.com/battlefield3/topics/allow_game_invites_to_be_sent_to_fellow_platoon_members-vss03/

Platoon feed
Does anyone want a code for the Air Shortcut DLC which gives you all of the unlocks for the air vehicles (jets, attack helicopters, and scout helicopters)? I'll give this to the first person that sends me a PS3 message asking for it. I got this for pre-ordering BF4, but already have everything unlocked. Note that to get this unlock, you'll have to do the following: 1) Go to an Origin website and login using your Origin account; 2) On this website, put in the code that I will give you; 3) The website will then give you a normal PS3 code for the air unlocks. Please don't ask for the code if you can't do these steps.

Here's information on the upcoming End Game expansion pack: http://t.co/wjlMEfcd3L Apparently, all players will now be able to unlock the M1911 S-TAC pistol (previously this was only available for DICE employees).

Show 1 more...

TheColonelEnigma

they are just circulating things again again and again,I dont know why you all are so excited about End game.I already know what i am expecting out of it.the game now is so straight forward that,who see who first,Who shoot first

List of all Battlefield Friends videos: http://www.youtube.com/playlist?list=PLF8C97115E5BCBA92

meticulousdragon

Great to have you in the platoon! Now I'm going to go see if you've taken over any of the top spots for the platoon stats ...