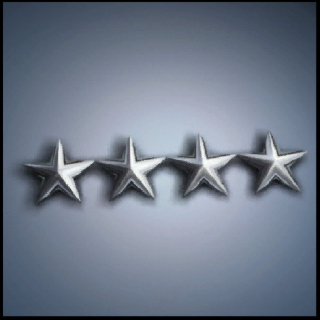 Platoon Presentation
Hey guys! This is a platoon for people who have the same opinion!

We want General-Ranks!

<----- Look at the emblem, look at these beautiful stars! *-*


-----------------------------------------------


Anyone who supports our idea can join this platoon and when it's full, i make another one and so on and so on.

We want to show DICE that it is crap what they did there...
They wanted to create a system for people who like to rank up fast and for people who want to play longer, but ... 100 Colonel ranks?? come on... bad solution...

Just make a BATTLEFIELD RANKING !!!


-----------------------------------------------


For example some ideas:

1# Add the Service Stars from the Seargent ranks to the higher ranks ( Captain 1,2,3 / Major 1,2,3 and so on )

2# Colonel Service Star 10 maximum number of Colonel ranks.

3# After Colonel 10 you reach Brigadier General, then after Brigadier General 10 comes Major General and so on. The maximum for example would be General of the Army ( 5 Star General )

4# To reach General of the Army you must be between the best 4 Star Generals of the month ( like in Bf2, which was great )

5# Maybe some Assignments to reach the General Ranks

6# and mybe the most important point: Set the points needed to rank up higher, its just stupid when you join a 64 player server and every player is a Colonel xx ... It would be the same crap when there are everywhere 4 star Generals ...


( when someone has another idea / ideas feel free and tell us :) )




-----------------------------------------------



Just make the ranking system great like it was back in the days of Battlefield 2 and Battlefield 2142. :)

(English text fixed by MSgt_Shigera)*



===========================
===========================



Hallo Leute, dies ist ein Platoon für alle die der selben Meinung sind wie wir!

Wir wollen Generäls Ränge!

Guckt euch das Emblem an wie schön die Sterne aussehen *-*


-----------------------------------------------


Jeder kann diesem Platoon beitreten und wenn es voll ist mache ich einfach ein neues und so weiter.

Wir wollen DICE zeigen, dass es Mist ist was sie da gemacht haben...
Sie wollten ein System hervorbringen welches Leute anregt die schnell aufsteigen möchten und ebenso für Leute die länger spielen möchten, aber ... 100 Colonel Ränge?? Ich bitte euch DICE... eine sehr schlechte Lösung...

macht einfach ein BATTLEFIELD RANKING !!!


-----------------------------------------------


Hier z.B. ein paar Ideen:

1# Fügt die Service Stars von den Sergeant Rängen auch den hohen hinzu ( Captain 1,2,3 / Major 1,2,3 etc )

2# Höchstens bis Colonel 10

3# Nach Colonel 10 erreicht man dann Brigadier General, nach Brigadier General 10 dann Major General und so weiter bis beispielsweise General of the Army ( 5 Sterne General )

4# Um General of the Army zu werden kann man es wie in Bf2 lösen indem der beste 4 Sterne General des Monats befördert wird. ( Fande ich eine sehr geniale Sache )

5# Vielleicht ein paar Aufträge um die Generälsränge zu erreichen

6# und wahrscheinlich der wichtigste aller Punkte: Setzt die Punkte die für einen Rang benötigt werden höher, es ist einfach nur bescheuert wenn man einem 64 Spieler Server beitritt und man sieht nur Colonel xx ... Es wäre der selbe Mist wenn überall 4 Sterne Generäle wären wie jetzt mit den Colonel Rängen.


( Wenn irgendwer noch (eine) Idee / Ideen hat einfach raus damit :) )


-----------------------------------------------


Macht das Ranking wieder so genial wie es war in den Tagen von Battlefield 2, 2142 :)


Ein toller Text wurde auch hier verfasst:

http://shadowhawkz.de/index.php?site=static&staticID=7

Sehr schön geschrieben und trifft den Nagel auf den Kopf.





Platoon feed
There are no more events to show