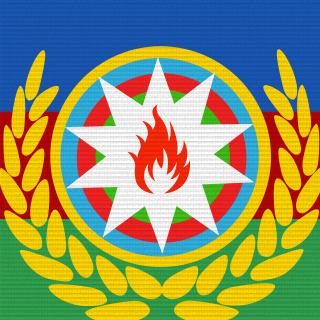 Platoon Presentation
Azerbaijan Army Forces-Information

The Azerbaijani Armed Forces (Azerbaijani: Azərbaycan Silahlı Qüvvələri) were re-established according to the Law of the Republic of Azerbaijan on the Armed Forces from 9 October 1991.The Azerbaijan Democratic Republic (ADR) had originally formed its own armed forces from 26 June 1918. However these were dissolved after Azerbaijan was absorbed into the Soviet Union as the Azerbaijan Soviet Socialist Republic from 28 April 1920. After the Soviet Union dissolved in 1991-92 the armed forces were reformed based on Soviet bases and equipment left on Azeri soil.
The armed forces have three branches: the Azerbaijani Land Forces, the Azerbaijani Air and Air Defence Force, and the Azerbaijani Navy. Associated forces include the Azerbaijani National Guard, the Internal Troops of Azerbaijan, and the State Border Service, which can be involved in state defense under certain circumstances.
According to the Azerbaijani media sources the military expenditures of Azerbaijan for 2009 were set at $2.46 billion USD,however according to SIPRI, only $1.473 billion was spent in that year. IISS also suggests that the defence budget in 2009 was $1.5 billion.Azerbaijan has its own Defense Industry, which manufactures small arms. In the future, Azerbaijan hopes to start building tanks, armored vehicles, military planes and military helicopters.

Overview

Since the fall of the Soviet Union, Azerbaijan has been trying to further develop its armed forces into a professional, well trained, and mobile military. Azerbaijan has been undergoing extensive modernization and capacity expanding programs, with the military budget increasing from around $300 million in 2005 to $2.46 billion in 2009.The total armed forces number 56,840 men in the land forces, 7,900 men in the air force and air defence force, and 2,200 men in the navy.There are also 19,500 personnel in the National Guard, State Border Service, and Internal Troops.In addition, there are 300,000 former service personnel who have had military service in the last 15 years.The military hardware of Azerbaijan consists of 220 main battle tanks, an additional 162 T-80's were acquired between 2005 and 2010,595 armored combat vehicles and 270 artillery systems. The air force has about 106 aircraft and 35 helicopters.
Azerbaijan has acceded to the Nuclear Non-Proliferation Treaty as a non-nuclear weapons state. Azerbaijan participates in NATO's Partnership for Peace. Azerbaijan joined the U.S.-led coalition against Iraq in 2003. It sent 150 troops to Iraq, and later troops to Kosovo. Azeri troops are still serving in Afghanistan.
Despite the rise in Azerbaijan's defence budget, which now doubles Armenia's entire state budget,the armed forces were assessed in 2008 as not having a high state of battle readiness and being ill-prepared for wide scale combat operations.
Today 'National Hero of Azerbaijan' is the highest national title in the country, awarded for outstanding services of national importance to Azerbaijan in defense, as well as other deeds in other spheres.

World War II

During World War II, Azerbaijan played a crucial role in the strategic energy policy of Soviet Union. Much of the Soviet Union's oil on the Eastern Front was supplied by Baku. By a decree of the Supreme Soviet of the USSR in February 1942, the commitment of more than 500 workers and employees of the oil industry of Azerbaijan was recognised with orders and medals. Operation Edelweiss carried out by the German Wehrmacht targeted Baku because of the importance of its oil fields to the USSR.Some 800,000 Azerbaijanis fought within the ranks of the Soviet Army of which 400,000 died. Azeri national formations of the Red Army included the 223rd, 227th, 396th, 402nd, and 416th Rifle Divisions. Azeri Major-General Hazi Aslanov was awarded twice Hero of the Soviet
Union.

Non-combat deaths

A number of Azerbaijani human rights groups have been tracking non-combat deaths and have noted an upward trend. Based on Defense Ministry statistics that had not been released to the public, the Group of Monitoring Compliance with Human Rights in the Army (GMCHRA) has recorded the deaths of 76 soldiers to date in non-combat incidents for 2011, and the injury of 91 others. In comparison, there were 62 non-combat deaths and 71 cases of injury in 2010. The string of non-combat deaths raises questions about the reform progress of the military. Factors behind the deaths include bullying, hazing, and the systemic corruption within the Azeri military.

Land forces

The Azerbaijani Land Forces number 85,000 strong, according to UK Advanced Research and Assessment Group estimates.The 2,500 men of the National Guard are also part of the ground forces. In addition, there are 300,000 former service personnel who have had military service in the last 15 years.Other paramilitary agencies consist of Interior Ministry Internal Troops of Azerbaijan, 12,000 strong, and the land component of the State Border Service, 5,000 strong.
Azerbaijan has signed numerous contracts to strengthen its armed forces and to train its military with Turkey's assistance. Over the last 15 years, Azerbaijan has been preparing its military for possible action against Armenian forces in Nagorno-Karabakh.

Air forces

The Azerbaijani Air and Air Defence Force is a single unified service branch.Some 8,000 men serve in the air force and air defence force.
The Azerbaijani Air and Air Defence Force has around 106 aircraft and 35 helicopters.The country has four major airbases. Nasosnaya Air Base has fighters, Kyurdamir Air Base a bomber regiment, Ganja Air Base transports, and Baku Kala Air Base the helicopter unit. There are also four other airbases which do not appear to have aircraft based there. These are Dollyar Air Base, Nakhichevan Airport, Sanqacal Air Base, and Sitalcay Air Base.
The Azeri Air Force uses MiG-21, MiG-23, Su-24 and Su-25 aircraft, as well as the MiG-29 purchased from Ukraine in 2006 and Il-76 transport aircraft. The MiG-29 have been designated as the standard aircraft for the AzAF.Azerbaijan is holding talks with either the People's Republic of China or Pakistan to purchase JF-17 Thunder aircraft.MiG-25s previously in service have been retired seemingly in the 2007-09 period.
Azerbaijan's helicopter force is concentrated at Baku Kala Air Base and according to the IISS consists of a single regiment with around 14-15 Mi-24, 12-13 Mi-8 and 7 Mi-2. Jane's Information Group and the IISS give figures which agree with only a single aircraft's difference.Recently, end of 2010 Russian Rosvertol announced that Azerbaijan armed forces signed a deal for 24 pieces of Mi-35M (Hind-E) gunships what would further enhance the Azeri ground attack formations.
The Air Force has L-29 and L-39 advanced training aircraft in store. The Azerbaijan Border Guard and Voluntary Society of Defense, Patriotism and Sport have Yakovlev light training aircraft.

Special forces

The Naval Intelligence of Azerbaijan maintains the 641st Special Warfare Naval Unit. The special forces were trained by the Navy Seals of the U.S. and both special forces have participated in joint naval exercises, headquartered at the Azerbaijani Naval Station on the island of Wolf in the Bay of Baku.Unit 641 has several midget submarines such as Triton-1M and Triton 2 at their disposal as well as underwater tool motion for individual divers. The special unit is composed of 3 reconnaissance groups, 2 groups for mountainous warfare and one diving group. Obligatory training includes parachute jumping day and night, on land and on water.
There is also unconfirmed reports of a 'Tigers' special warfare unit. It is said that the 'Tigers' unit was established in cooperation with the Turkish Navy in 2001. The training and structure of the Tigers are similar to Turkish special forces, Su Altı Taarruz and United States Special Forces who have close training relationships with them.The first Tiger units were established at Ganja following a joint training program with Turkey. The Special Forces are equipped with the Israeli IMI Tavor TAR-21.

International cooperation

Turkey

In December 2009 an agreement on military assistance was signed by Turkey and Azerbaijan. The agreement envisions Ankara's supplying Azerbaijan with weapons, military equipment and, if necessary, soldiers in case war with Armenia over Karabakh resumes.
Turkey has provided Azerbaijan with infantry weapons, tactical vehicles (jeeps, trucks, etc.) professional training, military organization, technology transfer, licenced military hardware production and other services. Due to help from Turkish specialists and instructors, thousands of Azerbaijani officers have been trained to western standards.
The military position as international importance of Azerbaijan increased with agreement between Azerbaijan and Turkey on the participation an Azerbaijani peacekeeping platoon in the staff of Turkish battalion in Kosovo.

USA

Section 907 of the United States Freedom Support Act bans any kind of direct United States aid to the Azerbaijani government. Despite this law there is extensive U.S. military cooperation with Azerbaijan. This has included Special Forces and naval aid, consultations with United States European Command, and linkages through the U.S. National Guard State Partnership Program.
On 19 May 2006, Azerbaijani Defense Minister Safar Abiyev and the then commander of United States Air Forces in Europe General Tom Hobbins met in Baku to discuss military cooperation. He said the objective of his visit was to become familiar with the state of Azerbaijani armed forces.Hobbins pointed to the progress made in the NATO-Azerbaijan relations, saying that the successful implementation of the NATO Partnership for Peace program in Azerbaijan has brought the country even closer to the alliance. He said that the two countries' air forces will expand cooperation.
The U.S. state of Oklahoma is linked with Azerbaijan through the U.S. National Guard State Partnership Program (SPP). Oklahoma National Guard troops have been sent on training and humanitarian missions to Baku.

Israel

Azerbaijan and Israel cooperate on numerous areas of the defense industry. Azerbaijan has shown great interest in Israeli technology over the years. In particular, an agreement was reached over the construction of the factory of intelligence and combat drones in Azerbaijan.
The Israeli defense company Elta Systems Ltd has had cooperation from Azerbaijan in building the TecSAR reconnaissance satellite system, which can take high-definition photos of ground surfaces in all weather conditions.According to Azerbaijani military experts, the TecSAR system will be indispensable for military operations in the mountainous terrains of Azerbaijan.
As of June 2009, Israel and Azerbaijan had been negotiating on the production of Namer armoured infantry fighting vehicles in Azerbaijan.There is no further information as to whether any agreement has been made.

NATO

The North Atlantic Treaty Organization (NATO) and Azerbaijan actively cooperate on defence institutional reforms and have developed practical cooperation in many other areas. Azerbaijan's Individual Partnership Action Plan (IPAP) and its Partnership for Peace (PfP) linkages lay out the programme of cooperation between Azerbaijan and NATO.
The Azerbaijani government has however delayed implementing IPAP-recommended reforms, however, in part at least because no decision had been taken to seek NATO membership. This is because Azerbaijan's foreign policy 'seeks to balance interests with the U.S., EU, Russia and Iran.'
According to a NATO diplomatic source some key officials at NATO headquarters in Brussels were pushing hard for engaging Azerbaijan on the membership question. "Turkey, Romania, Italy, Poland, the United Kingdom and the Baltic states," are among the member-states also backing a fast track for Azerbaijan's NATO membership.
However, Azerbaijan made its policy of not being aligned with a geopolitical/military structure official when it became a full member of the Non-Aligned Movement in 2011.
In 5 June 2006 the U.S. Departments of Defense and Homeland Security and the Federal Bureau of Investigation held a training program for about 100 representatives of the Ministry of Emergency Situations of Azerbaijan Republic, Republican Prosecutor's Office, Defense Ministry and other law-enforcement bodies. The objective of the training was to enhance Azerbaijan's ability to prevent the spread of weapon of mass destruction and related materials. According to a U.S. Embassy official, the program was organized as part of U.S. efforts to help Azerbaijan implement its NATO IPAP, specifically to strengthen Azerbaijan's ability to control its land and sea borders: "This training is being implemented within the frame of International struggle against spread of weapons of mass destruction. It is a good case that Azerbaijan is our active partner in struggle against spread of weapons of mass destruction".