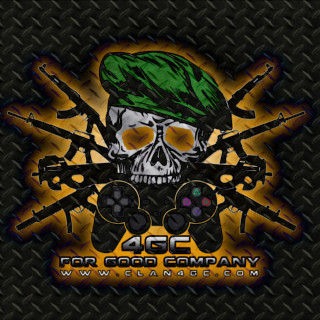 Platoon Presentation
*************************************************************************************************************************
PLEASE READ:
*************************************************************************************************************************
Before your platoon invite will be accepted you must
introduce yourself in the "New Members" area on the
4GC website (Clan4GC.com).

Also, if you are a part of this clan, you are required to fly the 4GC clan tag.
*************************************************************************************************************************

We are an established Battlefield 3 and Modern Warfare 3 clan split between the UK/EU and the USA/CAN divisions on PS3.

Mature gamers - 21+

A clan where you can exchange ideas and form friendships. Game battles, internal contests, and inter-clan matches are organized. This is a clan for both casual and/or competitive players. Women and men who just want to be part of a team and have fun.

We don't have any K/D requirements, especially since this is a team-based game. We do what it takes to win.

Our major requirements are that you have a mic/headset and are 21 or older.

We currently have 220+ clan members and growing with 60+ who play Battlefield 3 exclusively.

Apply at www.Clan4GC.com

http://www.youtube.com/watch?v=JkwAz2AcsbE
Platoon feed
I'll be on tonight about 7-8pm est.

96 hours of double xp start thursday (May 9th).

Don't forget BF Pub Stomp tonight (May 5th) at 7pm (pst), 10pm (est), 3am (gmt). I believe meet up is in the 4GC server but check with Pac6Man just to be sure of that. SEE YOU ON THE BATTLEFIELD

BF PUB STOMP SUNDAY MAY 5th AT 10PM (est)! SIGN UP ON THE FORUM...

I MIGHT be getting a game capture card mid June. If I hook it up right it can record everyone mic (but saddly only see my gameplay not everyone) I think it would be nice to have some 4GC BF3 and BF4 videos on youtube. What do you all think?

anyone want to get on and play some conquest dom, or do a match up in squad deathmatch? hit me up

patt1234

you should also post something on the main forum. there is a couple of things you might want to see.