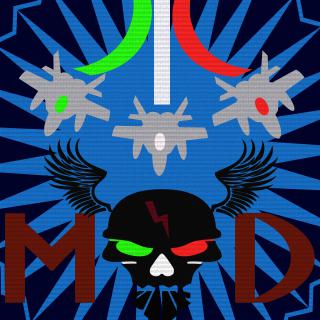 Platoon Presentation
▄▄▄▄▄▄▄▄▄▄▄▄▄▄▄▄▄▄▄▄▄▄▄▄▄▄▄▄▄▄▄▄▄▄▄▄▄▄▄▄▄▄▄▄▄▄▄▄▄▄▄▄▄▄▄▄▄▄▄▄▄▄▄▄▄▄▄
█████████████████████████▌ MASSIVE DESTROYERS █████████████████████████▌
▀▀▀▀▀▀▀▀▀▀▀▀▀▀▀▀▀▀▀▀▀▀▀▀▀▀▀▀▀▀▀▀▀▀▀▀▀▀▀▀▀▀▀▀▀▀▀▀▀▀▀▀▀▀▀▀▀▀▀▀▀▀▀▀▀▀▀

For the Italians:
REGOLE PER ENTRARE NEL CLAN:
1) Buon Gioco di Squadra.E Ciò Richiede l'Uso del TeamSpeak.
2) Rispetto.
3) Serietà e Divertimento.
4) Tag Clan.

OUR OFFICIAL BATTLEFIELD 3 Community Site:
http://massivedestroyers.enjin.com/home
Please Give A Look Out At The Site, Register And Apply To Join Our Clan, From The "Recruitment" Form.

OUR BF3 PUBLIC CLAN SERVER:
http://battlelog.battlefield.com/bf3/servers/show/b46ce44c-e323-459e-8515-6d711fd3ceaa/

OUR TeamSpeak 3 SERVER:
itts1.gameservers.com:9275 - PassW: mdbros

Si accettano reclutamenti.

Si gradiscono donazioni volontarie per il mantenimento del server e il ts.In tal modo da Upgradare il Server BF, fino a 48 Slots massimi.

English Language:
Here the rules for Join in the clan:
1) A Good TeamPlay.And This, Require The Frequently Use Of The TeamSpeak.
2) SeriousNess And Fun.
3) Respect For All.
4) TAG of the Clan.

We Recruit.

It Like Voluntary Donations For The Maintenance of The Server And The TeamSpeak.Whereby Upgrades To The Server BF, Up To 48 Slots Maximum.