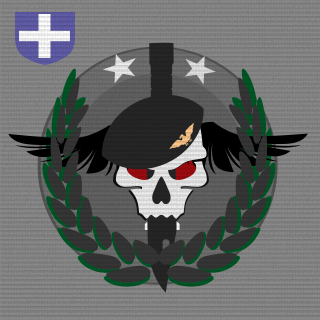 HΞLLΞNIC WAR FORCΞS
Tag:
[HELL]
Fans:
20
Created:
2013-08-24
Platoon Presentation
ΚΑΛΩΣ ΗΡΘΑΤΕ ΣΤΗΝ PLATOON ΜΑΣ
*HΞLLΞNIC WAR FORCΞS*
ΑΥΤΗ Η PLATOON ΦΤΙΑΧΤΗΚΕ ΓΙΑ ΕΝΑΝ ΚΑΙ ΜΟΝΟ ΛΟΓΟ,ΝΑ ΕΙΜΑΣΤΕ ΜΙΑ ΟΜΟΡΦΗ ΠΑΡΕΑ ΠΟΥ ΘΑ ΚΑΤΑΣΤΡΕΦΕΙ ΟΠΟΙΟΝ ΕΧΘΡΟ ΒΡΕΘΕΙ ΣΤΟ ΔΙΑΒΑ ΤΗΣ.
ΠΡΟΥΠΟΘΕΣΕΙΣ ΓΙΑ ΝΑ ΜΠΕΙΣ ΣΤΗΝ ΟΜΑΔΑ=ΝΑ ΕΙΣΑΙ ΚΑΛΟ ΠΑΙΔΙ Κ ΝΑ ΤΡΩΣ ΟΛΟ ΤΟ ΦΑΙ Σ/ΝΑ ΕΙΣΑΙ ΕΝΕΡΓΟΣ ΣΤΟ BF/ΝΑ ΜΗΝ ΕΙΣΑΙ ΤΟΥΡΚΟΣ/ΣΕ ΚΑΘΕ ΜΑΧΗ ΝΑ ΤΑ ΔΙΝΕΙΣ ΟΛΑ Κ ΝΑ ΠΑΙΖΕΙΣ ΟΜΑΔΙΚΑ.ΑΠΑΡΑΙΤΗΤΗ Η ΧΡΗΣΗ MIC.

ΦΙΛΟΣΟΦΙΑ ΤΩΝ HΞLL:ΕΔΩ ΠΡΟΣΠΑΘΟΥΜΕ ΝΑ ΦΤΙΑΞΟΥΜΕ ΜΙΑ ΟΜΟΡΦΗ ΜΙΚΡΗ ΕΝΩΜΕΝΗ ΟΙΚΟΓΕΝEΙΑ,ΜΙΑ ΑΔΕΛΦΟΤΗΤΑ ΤΗΣ ΟΠΟΙΑΣ ΤΑ ΜΕΛΟΙ ΘΑ ΣΕΒΟΝΤΕ Ο ΕΝΑΣ ΤΟΝ ΑΛΛΟΝ ΚΑΙ ΘΑ ΦΥΛΑΝΕ ΤΑ ΝΩΤΑ ΤΟΥΣ ΣΤΙΣ ΜΑΧΕΣ ΠΟΥ ΘΑ ΔΙΝΟΥΝΕ.ΤΑ ΠΡΑΓΜΑΤΑ ΑΠΛΑ-ΕΙΛΙΚΡΙΝΕΙΑ-ΕΠΙΚΟΙΝΩΝΙΑ-ΧΑΒΑΛΕΣ.ΟΧΙ ΙΝΤΡΙΓΚΕΣ-ΣΝΟΜΠΑΡΙΣΜΑΤΑ-ΓΚΡΙΝΙΑ-ΚΟΥΤΣΟΜΠΟΛΙΑ-ΚΑΒΓΑΔΕΣ.ΣΕ ΟΠΟΙΟΝ ΔΕΝ ΑΡΕΣΕΙ,ΦΕΥΓΕΙ,ΣΕ ΟΠΟΙΟΝ ΑΡΕΣΕΙ ΜΕΝΕΙ.ΕΔΩ ΤΟ ΗΘΟΣ ΚΑΙ ΤΟΝ ΧΑΡΑΚΤΗΡΑ ΔΕΝ ΤΟΝ ΜΕΤΡΑΜΕ ΣΥΜΦΩΝΑ ΜΕ ΤΟ K/D RATIO ΤΟΥ ΚΑΘΕΝΟΣ.




*SQUADS*

''''A SQUAD''''
1)
2)
3)
4)



''''B SQUAD''
1)
2)
3)
4)



''''C SQUAD''''
1)
2)
3)
4)



''''D SQUAD''''
1)
2)
3)
4)



HELL VS _____
DATE:
TIME:
SERVER:
MAPS:


WINS:
DRAWS:
LOSES:2


*ΑΠΟΤΕΛΕΣΜΑΤΑ CLAN WAR*

UGR vs HELL = 2-0

HELL vs Dx =0-4


Platoon feed
kavlimera sas perimeno sto bf4.min fovaste elate.

Καλημέρα Ποιοι θα παίζουν το BF4 σήμερα?

PARASKEVI 7 TO APOGEVMA MALLON EXOUME CLANWAR OPOTE AS MAZEVOMASTE NA DOUME TI THA GINEI.

Show 4 more...

BUDDHAonDRAGZ

akiro ap'oti fenetai.den eixame nea.to pires to bf4?

Pana-Wan_Kenobi

mou to fernoun prin to mesimeri sti doulia! pre-ordered apo kypriako katastima. esy?

Show 19 more...

BUDDHAonDRAGZ

jimmare vres xrono man,exoume kairo na paixsoume mazi game.k meis gamame alla vriskoume xrono gia polemo.daxsei moraki?

Show 2 more...

Tsakalis13

egw omorfandra mou an iparxei problima mila gti dn mu exete pei tpta

BUDDHAonDRAGZ

oxi sidrofe eixa aplos aporia,giati eixa pei sto paidi pos den ginete na bei giati einai stous ugr k an argotera tixaine na figei apo aftous tote tha borouse na bei an ithele akoma.alla tespa mias k bike tora,ok den trexei tpt,d

Show 5 more...

BUDDHAonDRAGZ

svistos k methismenos k apo ton erota kamenos,mestin kapsouououra vithismenos,einai o tsakaaaaaaaaaalof erotevmeneeeeenos...

drepomai gi'afto alla aftes tis meres paizo cod.oxi filoi m den einai prodosia alla to ghosts me vlepo na to tsibao,fenetai ok.

Show 8 more...

BUDDHAonDRAGZ

daxsei san tous padremenous.tha xsenogamao alla pada to vradi tha girizo stin ginaika m.