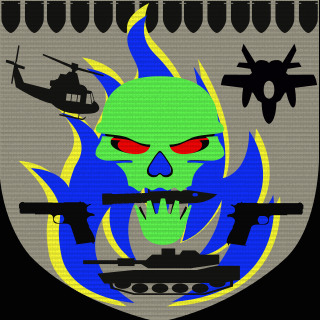 Horn of Failure
Tag:
[HoF]
Fans:
38
Created:
2011-10-25
Platoon Presentation
*****Special thanks to our brother platoon.. LE... its always good to be on the battle field with you guys.

~Due to our great collaboration and lengthy affiliation with the LE platoon many of the members of this Platoon and the LE platoon wear the combination dog tag (HoLE). This tag represents the unbreakable bond and brotherhood forged in blood and battle of the two great warrior platoons.

~HoF and HoLE are always interested in squared away individuals that have the desire to be part of a cohesive tactical fighting unit.

~We are primarily a West coast USA platoon but we do have members across the US, UK and Australia.

~ You MUST have a MIC and understand or want to learn how to be a great squad/team/platoon member.

~ Lone wolves wither and die in the cold.

~If you are looking for a platoon to add to your collection we may not be the right fit for each other.

~ If your not willing to lay down your life for the unit so others can reach the objective, once again we may not be the right fit for each other.

~ There is not a "I" in HoF, HoLE or our brother Platoon LE, we win as a team and lose as a team.

~ We are a small band of warriors that all get along well and enjoy the time we share together and all strive for the common good of the Platoon.

~We don't have goofy rules or requirements.

~Just have some laughs and remember this is a game and we all do this for fun.

Platoon feed
Man does anyone visit this thing anymore?

Hey all, So I've got a few buds that are interested in rubbing elbows with us HoLE folk. Since we have this PS3/PS4 communication gap I know there's a few of you that won't really be able to play with these guys (at least for a little while anyway). I know they're good people & I feel that's basically the number one criteria for hanging with us lumps. What are your guys thoughts?

Show 1 more...

DeathCard_94

Why don't you come on over and convince us. Also my application for HoF has been pending for 3 months. Elk said he would put it to a vote. I just haven't heard any results yet.

afternoon gents, Since the new console launch we seem to be a house divided. Some taking the plunge (problems & all) into the next gen & some holding out for brighter prospects. Well, for those of you that are dutifully hanging back to continue to rep HoLE on PS3 know that the us "new gens" are systematically stomping ass in whatever form it presents itself. One day I hope to see all HoLE members in a single match fighting together to set a record for fastest & nastiest steamroll in BF history. Until then friends, stay frosty.

Hey guys. DeathCard_94 would like to join HoLE. If you would friend him up and get to know him. He isn't an ass hat like some of the random recruits in the past. Id like to have this pushed through by the end of the month. Toy and I have played with him quite a bit and hes got our vote. Thanks for your time. message me back or get at me online with questions and concerns. The Ol' Wafflecone.

ReverendWartooth

Are you guys planning on getting a PS4 in the near future?? ReverendWartooth misses you guys : ' (

ReverendWartooth

PS I just searched for that gamertag and I couldn't find DeathCard_94

Well It's done. I installed my new laser and everything is back to normal. It's time once again to raise my blood pressure level playing BF3. Hooah!

Well As some know I have been MIA due to a burned out laser back in Oct. (Guessing that is the issue) New laser on order. PS3 torn apart and waiting for the laser to come in 11/25/13. Personally I am not when and if I will even transition to BF4. The beta I was most unimpressed with, and At the least I will sit on my hands and wait with buying BF4. Hopefully I'll be back on sometime this week. So everyone stay frosty.

We need to get HoLE onto the next gen something fierce. I got a sample of my first 64 player match last night & I can say that I was NOT disappointed.

waffleconemalone

I wont be buying in to the next gen systems until they work the first round of bugs out. Cant wait though!!

http://cheezburger.com/55869441 One of the best battlefield videos I've seen, funny as hell.

Midnight-Xpress1

Alright I just got intel form H.Q. E.T.A 5 minutes till bedtime boys, Lets Wrap it up. That is some funny ish.

Will be getting bf4 as soon as I can, but the waiting is all the shit all at once, this having no money business is my main hurdle at the moment.