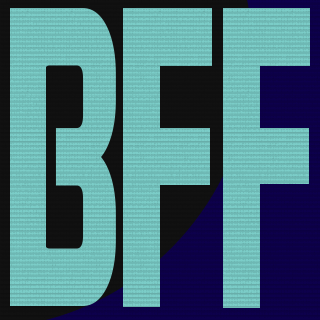 Platoon Presentation
Welcome to our Platoon,
This is the platoon page for the original BFF clan.

BFF was most active during the days of Bad Company 2, The slow start to BF3 including many game breaking bugs led to many members drifting away from the battlefield.

We are trying a fresh start with the BF4 Beta approaching. We play all modes. We use headsets.
Mostly a UK clan, but if you speak English that will do. And if your not from the EU and don't LAG your welcolme.

Have a chat, play the objective but most of all have fun.

Don't worry we all RAGE now and then.

See you on the Battlefield.

http://www.bff-clan.co.uk/
Platoon feed
Changed Platoon logo using platoon editor. DICE is removing uploaded platoon pictures. So fixing it before DICE do.

Don't forget to spread the word to other BFF members. That we have our website back.

Havent played since Sunday, when i got destroyed. I went 2/11 and 7/17 in my last two games. Going to give it a go again tomorrow, if anyone is about to to try and revive me or keep me alive it would be much appreciated :)

New BFF Clan site up and running. http://www.bff-clan.co.uk/

Don't we have a founder anymore?

weldon855

nope , just leaders . leaders which cannot be demoted unless they leave the platoon so be careful assigning them.

IREWolfman

Was talking to EA you cant add a Founder once they are removed. Founder should only leave to disband platoon. Going to make a thread on forums. As should be better options or made clearer safer. Like are you sure. Yes or No.

Time to put my BFF tags back on.

Glasgow_Mick89

Did you leave Pain mate? I'm a bit lost. Never really know whats going on anyways these days. So it's nothing new.