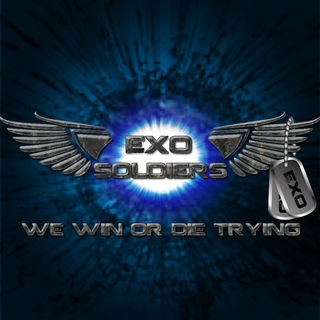 Platoon Presentation
We are all here because we have common qualities, we love the game and we love to win.
Here in Exo we focus on three things: Commitment, Teamwork, and Fun.

If you are interested in joining this platoon, send me a friend request, and I will take a look at your stats and get back to you.

What does Exo stand for? It stands for the willingness to reach the highest teamwork to beat all odds.

-----------------------------------------------------------------------------------------------------------------------------------------------------------
Recruiting thread, please bump when you can:

http://battlelog.battlefield.com/bf3/forum/threadview/2955064766769298177/

-----------------------------------------------------------------------------------------------------------------------------------------------------------
Member's YouTube Channels:

Main Platoon Channel - http://www.youtube.com/user/ExoSoldiers
VekTerr - http://www.youtube.com/user/VekTerr
xlXOsPrEyXlx - http://www.youtube.com/user/xlXOsPrEyXlx
Jaake760 - http://www.youtube.com/user/planb760
ExoGN - http://www.youtube.com/user/ExoGN
UNNAMEDxASSASIN - https://www.youtube.com/user/UNNAMEDxASSASSIN
USAF_Growlmon - http://www.youtube.com/user/USAFGrowlmon

-----------------------------------------------------------------------------------------------------------------------------------------------------------

Platoon Events:

Fun N' Games:
Buggy Race (6 Drivers and 2 Chopper pilots needed)
Hide n' Go Seek (in CQ maps, 8 people needed)
EOD Bot Squad Rush (Any maps, 6 Engineers and 2 Supports needed)
EOD Bot Race (7 Engineers and 1 Support needed)
ATV races (6 man race with 2 engineers)
Manhunt (max of 12 hiders and 4 gunners)
Hunger Games (SQDM, 2 players per squad, crossbow and knife only, friendly fire on, one squad can be mortaring)

Zombies:
http://exosoldiersmain.enjin.com/forum/m/4457784/viewthread/4548297-exo-zombie-event/page/1


If you have any game ideas, feel free to tell me.

-----------------------------------------------------------------------------------------------------------------------------------------------------------
Required/Recommended Specs for PC for BF4:
http://gyazo.com/d3db6c929c80a658457a6e4166f58d5b.png

-----------------------------------------------------------------------------------------------------------------------------------------------------------
Who's getting what system for Battlefield 4:

PC:
- USAF Growlmon
- VekTerr
- MediocreSupport
- xlX OsPrEy Xlx
- STRIKER 475
- CaptainChevy
- EightBItsofDeath
- iiTzJAKEOo
- SilentTooth5256

Playstation 4:
- xAVENGERLDZx
- STRIKER 475
- Shine0
- M16A3 TryHard
- Mmmmm Napalm
- LessBlueTint
- The Green Recon
- ThePeanutttt
- Weekells
- ExoGN

Xbox ONE:
- Cpt Chevy
- Its Odahviing
- UNNAMEDxASSASSIN
- Weekells
- epic1856

Playstation 3:

Xbox 360:
- SilentTooth5256

-----------------------------------------------------------------------------------------------------------------------------------------------------------
Platoon's Signature Move:

http://www.youtube.com/watch?v=BkHuUpGzOZs

-----------------------------------------------------------------------------------------------------------------------------------------------------------
Platoon's Theme Song:

http://www.youtube.com/watch?v=B5BmFTcNMDg

-----------------------------------------------------------------------------------------------------------------------------------------------------------

Platoon feed
Are any of you still alive? :o

Blargh do you guys actually enjoy brokenfield 4? *back from the dead*

Be sure you guys register for the main site for the full EXO experience!!!

Attention all members. We have made an EXO BF4 platoon which allows you to join even if you're on a different platform or don't have BF4 yet. Make sure to apply since that's where we'll be news, updates, and other stuff! http://battlelog.battlefield.com/bf4/en/platoons/view/7744086030365397711/

Status of my PS4, WTF: http://gyazo.com/6f188ba4cc5e791c597731ca875ef21e

Show 5 more...

OfficiallyGone

DA FUZ??? I swear buying things on the internet is like the casino...

What's the news on the BF4 platoons?

Sooooo....Does anyone ever visit our forum board?