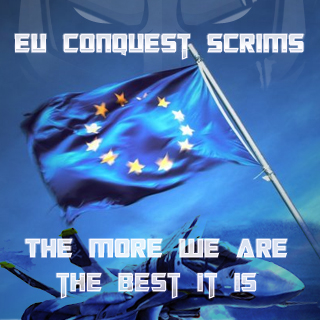 Europe Conquest Scrims
Tag:
[E-C]
Fans:
57
Created:
2012-01-30
Platoon Presentation
WARNING :

I'm currently looking for one or two active Members to help me with this platoon,if your interested let me know in the comment section



Clan list need to be refreshed so we will start a new one using this pattern:

[TAG]:
COUNTRY:
NAME OF PLATOON:
PSN AND BATTLELOG ID:

[SoN]
Finland
GIVE ME BACK MY SON
Allu0 Allu0
Panadoli Panadoli

[CoeS]
SPAIN
m--armstrong
matiasmurillo


[xEx]
saudia arabia
ELITE Clan
PSN: baraa8787 battlelog: baraa8787-ELITE
PSN: dr-love1991 battlelog: DrLove1991-ELITE

[TeT]
Sweden
Tactical evasion Team
h3441 Frizenko

iD
Immortal Dominance
bl:Call_Me_Cryphax
psn:II-Cryphax-II

[aAa]
Germany
Against All Authority
PSN: Wendelum Battlelog:Wendelum

[BTRK]
Turkey
Battlefield TURK
PSN: TUTOR1905 Battlelog: BTRK-TUTOR1905

[QD]
russia
Quacking Duck
psn misha16-16\zenden_jeka

[LH]
SAUDI ARABIA
Lion Heart
PSN: TorNaDo__7 Battlelog: LH-tornado__7

[rG]
Belgium
reGeneration
Cellsystem CellsystemBE

[sNs]
UK
Soldiers Never Sleep
PSN: Zakkobonko1

[rpt]
portugal
rivais portugueses
leaders : fizipe/xjotax/skyquake

[HMCK]
FRANCE/MOROCCO
HMCK ELITE CLAN
Leaders : Oilec85 // Abder1010

[QaD]
Czech Republic
Quick and Dirty
PSN: MikkyCZE

[dF]
UK
deFianc
PSN FATGRANDAD BATTLELOG : FK_CQP_GNGRANDAD

[MzS]
France
eVolution.MooNzSTAR
PSN AND BATTLELOG ID: eVo_BuRnZ

[Pol]
Poland
Polish Fighters
PSN;Davcio77 Battlelog: Davundrum

[sRs ]
Russia
Str.of.the.Ru.Spirit
PSN: beeBullet, Archi-RU. Alex_Farang Battlelog: beeBullet. Archi-RU, alex8011

[COPS]
Germany
C*O*P*S
PSN: ed_marco Battlelog: ed_marco PSN: Gengaskind88 - Battlelog: COPS_Genji

[DiTy]
Netherlands
Dutch iNSaNiTy,
PSN: Ivo-Dreetje

WRITE it IN THE COMMENT SECTION WITH ALL YOUR INFORMATIONS WHEN YOU JOIN,( I Won't do it ; ) ) !!!!!!


Platoon feed
There are no more events to show