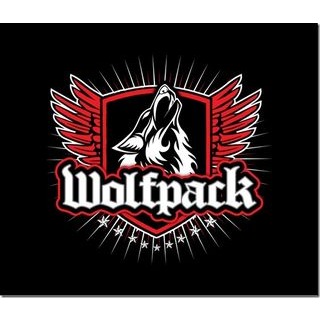 R.I.P WolfPack
Tag:
[RIP]
Fans:
56
Created:
2012-04-27
Platoon Presentation
http://fc05.deviantart.net/fs71/f/2013/098/b/0/77th_tactical_server_banner_by_hackersparadise-d60vdx7.jpg

http://www.youtube.com/watch?v=xKX0U8LTadc

Banner done by HACKERSPARADISE, cheers mate!!

Welcome to WolfPack!! We are a group of mates from mainly Australia & NZ who play the game fair. We work as a team and expect the same from our members. If you want to join contact a Leader or the Founder.


═══════════════════════════
Partnership Clans

LGc
http://battlelog.battlefield.com/bf3/platoon/2832655391586527064/
CORP
http://battlelog.battlefield.com/bf3/platoon/2832655391432321381/

═══════════════════════════

***Currently recruiting jet pilots, also from here on only recruiting players who will 100% play for WOLF. We have more than enough from other clans, so if you apply please be aware we will expect you to have us as your main platoon. Contact Bizwop or Mutated_Gypsy for details***

We also have our own dedicated AU/NZ server. Please add it to your favourites. It's called WolfPacks AU Server. Mostly will be set on CQ but map rotation will change every now and then.

Current Active Wolves (If you want to be on this list please contact myself or a leader)

Bizwop (Heli Pilot, fly with me I shall show you how to crash)
SirFag_Gay (Tank & Infantry, sucks at DJ-ing)
Bliiind1 (Infantry & Fudge Packing)
Mutated_Gypsy (Infantry & Heli Gunner)
Shaitan4 (Heli Gunner & Head-glitch master- also sucks at djing)
LGc_Milkshake (Vehicles & Infantry)
Chow(Infantry & Master Skid Driver)
Dual-_xNinJa (Infantry & Armor)
BrutalL3G4CY (Infantry, Jet Pilot + Hot Sister)
TheKinggamer3000 (His stratz carry us every time)
YBH87N7H3BO55 (Infantry, Heli Gunner and Jets)
xReapercussion (Infantry,)
Bl4Ck-R4G3 (Infantry)
TheFakeMassiah (Infantry & Armor)
PJ (Jet Pilot & Infantry)
LDN17 (Infantry)
zaneyboy_worthy (Infantry)
MrWILKO86 (Infantry & Vehicles)
Gavzification (Tanker, Infantry & Dual's Bestest Pal)
AUSx_WhytJesus (Tanker, Heli Gunner and PKP Specialist)
xHoneyBadgerxX (Jet pilot)
LGc_GuNSh0 (KFC King, Maximum Lifter)
AUSx_Badger - (Tanks & Infantry)
||Merc|| (Tanker from Hell)
AUS_NZ_JIMMY (Infantry and Air)
Bullet-asiik_ (Heli Gunner, Jet Pilot & Infantry)
Sacu3 (He will fuck your shit up!!)
NBFK (Infantry)
Dreezy (Infantry)
LOUDPVCK (Armor & Infantry)
Parkway (Heli and Armor)
GUNDAM (Infantry)
Th3_Monlopo (#1 shitcunt cocksmasher faggot cunt in AUS/NZ is also in LOCQ(LEL FAG)
Seabass (bad)
BOSS-STATUNO1 (Heli Pilot, Jet Pilot, Infantry)
MichaelMilo97 (Heli Gunner, Jet Pilot, Infantry)
SofunNo1sexy (Jet Pilot, Infantry)
riVaLZortoN94 (Jet Pilot, Infantry)
ZeiiKz (Infantry)
||Fuziion|| (Heli Gunner)


Clan tag is WOLF, make sure you put this on after joining. If you have joined but remain loyal to your original clan clan tag is only required for scrims,

We are always up for a Clan Scrim. For more details contact Bizwop or Mutated_Gypsy.

We play for fun, and not the drama some bring into it.

Please make sure you have a mic if you join and that you can work as a team.

Please also make sure you add the following Members to your PSN List after you join:
Bizwop
Mutated_Gypsy



We don't care about stats, just as long as you can work as a team as get along with us.

We DO NOT accept boosting or any form of cheating/glitching.

Also WE WON'T KICK YOU FOR WANTING TO ORGANISE A SCRIM.

***Scrim Results*** 8 - 7

WOLF vs LGc - 0-3
WOLF vs AUSx - 2-1
WOLF vs AUS1 - 0-2
WOLF vs Venix - 0-3
WOLF vs BBF - 3-0, GG BBF.
WOLF vs NZ - 2-1
WOLF vs SBA(Scrubs) - 3-0 (By forfeit)
WOLF vs SAS - 3-0, GG SAS
WOLF vs LGc - 0-3 Raped again. . . .
WOLF vs ATS - 3-0 GG ATS!!
WOLF vs BBF - 2-1 GG BBF!!
WOLF vs NAS (Scrubs) - 3-0 GG NAS
WOLF vs LOCQ - 0-3 GG LOCQ!!
WOLF vs MAD - 0-3 GG MAD!!
WOLF vs GAMR - 0-3 GG GAMR!!


***Upcoming Scrims***
═══════════════════════════

═══════════════════════════ 


Good Luck and please mail Bizwop for any concerns.



Platoon feed
There are no more events to show