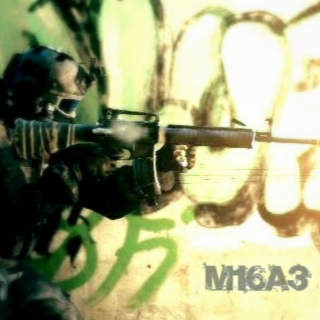 M16A3
Tag:
[M16]
Fans:
97
Created:
2012-05-29
Platoon Presentation
M16A3
Characteristics

Auto fire - Yes
Single shot fire - Yes
Burst fire - No
Rate of Fire - 800
Ammunition - 30 [5.56x45mm NATO]
Range - LONG


The 3rd generation of M16A3 has been upgraded with a RIS (Rail Interface System) for mounting accessories and is capable of Automatic and Semi-Automatic fire. Available to front line units engaged in urban combat, the M16A3's low recoil makes a capable all around weapon.

One of the best assault rifles.

*
A 3 ª geração de M16A3 foi atualizado com um RIS (Rail Interface System) para acessórios e é capaz de fogo automático e semi-automático. Disponível para unidades de linha de frente em combate urbano, o baixo recuo da M16A3 faz dela uma arma capaz em qualquer ambiente.

Uma das melhores armas de assault.