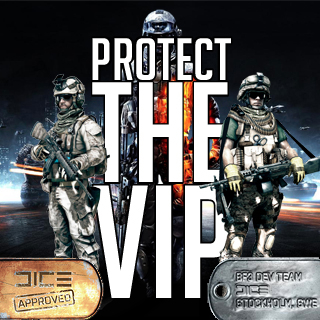 Protect the VIP
Tag:
[me]
Fans:
2
Created:
2012-08-29
Platoon Presentation
—«•´¨*•.¸¸.* ..::**: Willkommen auf dem Offiziellem Platoon des Protect the VIP -EVENT :**::… *.¸¸.•*¨`•»—

DAS IST EIN PLAYSTATION 3 EVENT VON MIR (STIFLA91) FÜR EUCH (DIE COMMUNITY)
BESUCHT WWW.GAMEOASIS.DE
Bei weiteren Fragen könnt ihr mich auf Twitter erreichen @Stifla91 (https://twitter.com/Stifla91)

THIS IS A PLAYSTATION 3 EVENT FROM ME TO YOU (THE COMMUNITY) VISIT WWW.GAMEOASIS.DE
If you have some questions ask me on Twitter @Stifla91


—«•´¨*•.¸¸.* ..::**: ANMELDUNG/REGISTRATION :**::… *.¸¸.•*¨`•»—

●Werdet FAN und MITGLIED/Become a FAN and MEMBER
●Wenn die Server offen sind ändert dementsprechend die CLANTAGS (Regel dazu findet ihr weiter unten)/If you join the Server you have to Change your CLANTAG (You will find Rules more down)
●Jedes Mitglied ist KILLER, kein BODYGUARD. BODYGUARDS werden bestimmt (es soll ja nicht so einfach sein die DT zu messern)/Every Member is a KILLER, no BODYGUARD. BODYGUARDS be determined (It don't be to easy for the KILLERS to get a DICE DT)


,.-~*'¨¯¨'*·~-.¸-(_ Nächstes EVENT bald/Next EVENT soon

●...
●Es wird der Modus Squad-Deathmatch gespielt/As mode I choose Squad Deathmatch
●Bitte verlasst den Server sofort wenn ihr eine DICE DT habt/If you knifed a DICE DT please leave the SERVER

,.-~*'¨¯¨'*·~-.¸-(_ SERVER

Werden noch im Battlefeed bekanntgegeben/Will be release in the Battlefeed


Vorab, es ist das erste PROTECT THE VIP EVENT, also bitte nimmt mir es nicht übel wenn was schief läuft, danke. In Protect the VIP geht es darum, wie der Name schon sagt, den VIP zu beschützen. Der VIP trägt eine DICE Friends Dog Tag oder eine DICE Dev Dog Tag und wird von 3 Bodyguards beschützt während die Killer versuchen den VIP (wie man so schön sagt) abzustechen.

This is my first PROTECT THE VIP EVENT (but not my last one). In PROTECT THE VIP you can have the chanceto Knife a DICE DT of a VIP. "KILLERS" try to knife the VIP to get a DICE DT. The VIP got protectet by 3 BODYGUARDS (It sould not be easy for you).


,.-~*'¨¯¨'*·~-.¸-(_ VIP's für das EVENT/for the EVENT

►...
●...
●...
●...

►...
●...
●...
●...

►...
●...
●...
●...

►...
●...
●...
●...


,.-~*'¨¯¨'*·~-.¸-(_ REGELN/RULES

►VIP's suchen sich ihre Bodyguards/VIP's searching the BODYGUARDS
●Die Bodyguards werden für das GESAMTE EVENT bestimmt/Bodyguards will be determined for the WHOLE EVENT

►Squadordnung/Squadorder
●VIP = ALPHA-SQUAD
●Bodyguard's = ALPHA-SQUAD
●KILLER = BRAVO-, CHARLIE- und/and DELTA-SQUAD

►Clantagordnung während dem EVENT/Clantagorder while the EVENT
●VIP = [VIP]
●Bodyguard = [SAFE]
●Killer = [KILL]

►Sollte man während einem Spiel sich eine DICE DOGTAG gemessert haben, so verlasst den Server so schnell es geht um den anderen auch eine Chance zu geben/If you Knifed a DICE DT leave the Server quickly to give other also a Chance to get one

►Solltet ihr den Server nicht verlassen, nachdem ihr eine DICE DOGTAG gemessert habt müssen wir euch leider vom Server Kicken um, wie gesagt den anderen eine Chance zu geben die DOGTAG zu messern/If you don't leave the Server you will be kicked out of it, to give other also a chance, sorry

►Der VIP darf ausschließlich das Messer benutzen/The VIP uses only a Knife

►Folgende Waffen dürfen die "Killer" benutzen/Following Weapons can use for the "KILLERS"

►Pistolen/Pistols

●MP412REX
●G17C
●M9
●MP443
●M1911

►Andere/Other

●Reperaturwerkzeug/Repairtool
●MAV
●Messer/Knife
●Medipack
●Munitionspack/Ammopack
●Defibrilator

►Die BODYGUARDS des VIP dürfen nur folgende Waffen benutzen/Following Weapons can only used by BODYGUARDS

►Pistolen/Pistols

●G17C Schallgedämpft/Silencer
●M9 Schallgedämpft/Silencer
●G18 Schallgedämpft/Silencer
●MP443 Schallgedämpf/Silencer
●M1911 Schallgedämpft/Silencer
●.44 Magnum

►Andere (Wafffen & Gadgets)/Other (Weapons & Gadgets)
●M320 (RAUCH)/(Smoke)
●MAV
●T-UGS
●Radio-Beacon
●Messer/Knife
●Medipack
●Munitionspack/Ammopack
●Defibrilator


Sollten die Regeln während des Events nicht befolgt werden, wird der Regelverstoß mit einem Kick bestraft.
If you don't follow the rules while the Event starts, you will get kicked out of the Server.


Platoon feed
There are no more events to show