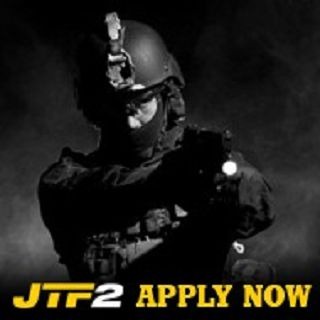 Platoon Presentation
...::: Joint Task Force 2 BF3 :::...

>>> "Infidels" <<<

IMPORTANT: Rules - No racism period - No cheating or glitching - No recruiting - PTFO - No intentional vehicle ramming

We are competitive group of players that play for laughs and good times, don't get us wrong. We can be serious when need be.

Code of Combat:

You are a digital warrior,
Together we are death incarnate,
We Devastate,
We Destroy,
We Dominate,

In other words, PTFO

We are ...::: JTF2 :::...

>>> See you on the Battlefield! <<<

Real World Unit information:

Joint Task Force Two (JTF 2) is the Canadian Forces (CF) Special Operations Forces (SOF) unit responsible for a broad range of missions, which could include counter-terrorism operations and armed assistance to other government departments. This mandate was inherited from the Special Emergency Response Team of the RCMP, who maintained this responsibility from 1986 until 1993, at which time the federal government transferred the role to the CF.

Mission

JTF 2 is responsible for providing to Canada a force capable of rendering armed assistance in the resolution of an issue or a potential issue that affects national security. While JTF 2's primary role is counter-terrorism, its personnel can be employed in any type of military operations, which include, but are not limited to, surveillance, security advice and close personal protection.

About JTF 2

Background Information

Canadians served with distinction in several types of Allied Special Forces units during the Second World War. One such unit was the legendary U.S. and Canadian combined 1st Special Service Force or, as it was commonly known, "the Devil's Brigade." It achieved a sterling combat record despite overwhelming odds. While tactics, weapons and technology have changed, today's JTF 2 soldiers are perpetuating the basic qualities that define such units.

JTF 2 was created on April 1, 1993, when the Canadian Forces (CF) accepted responsibility for federal counter-terrorism operations from the RCMP. Since its inception, the unit has continuously evolved to meet modern-day threats. As the events of 11 September 2001 have shown, the threat of terrorism comes from an elusive, sophisticated and determined enemy. In order to maintain an edge in this operational environment, JTF 2 is continuously developing new capabilities, technologies, and tactics.

The year 2001 marked an important milestone in the history of JTF 2. The unit was committed to the international Special Operations Forces coalition in Afghanistan, completing its operations there in November 2002. This deployment was the first time JTF 2 was used in a major combat role outside Canada. The unit played a critical role in coalition Special Operations Forces and earned the respect of Canada's allies for its professionalism.

Unit Accountability

JTF 2 is a unit of the CF and is subject to exactly the same code of conduct, military discipline and overriding Criminal Code statutes as any other military unit. Due to the strategic nature of its operations, the unit answers directly to the Commander of the Canadian Special Operations Forces Command. This allows for very timely command and control, access to strategic intelligence, and the oversight considered essential for military operations undertaken to meet national objectives. The Commander Canadian Special Operations Forces is accountable to the Chief of the Defence Staff who, in turn, is responsible to the Minister of National Defence.

Like other units of the CF, JTF 2 follows Rules Of Engagements (ROE) authorized by the Chief of the Defence Staff. Its members are entitled to the same support and health services as other service members, they are accountable to the military and civilian justice systems, and they must follow the same regulations and orders as the rest of the CF. Like any other CF unit, internal oversight bodies such as the Chief of Review Services, the Military Police Complaints Commission, the Pay and Allowances Review Board, the Access to Information Office and the CF Ombudsman all have access to JTF 2, if required, to carry out their duties.

Professionalism

JTF 2 is comprised of CF members employed in assaulter and supporter roles. All members are carefully screened for service in the unit but it is the assaulters who undergo a selection and training regime for eventual service in the fighting arm of the unit. Any Regular or Reserve Force member of the CF can apply to become a member of JTF 2 after completing 2 years of service and meeting other initial entry requirements. Members of JTF 2 are highly motivated, dedicated, mature, mentally robust and physically fit. Potential assaulters are carefully screened to ensure that they meet these criteria and are the type of team-oriented and highly skilled professional soldier, sailor or airman that can effectively function in this high stress environment. The CF's strongest asset is the people that fill its ranks across the country. Many of these service members have tried out for the JTF 2 selection process but, on average, only two in ten candidates that arrive at the unit for final selection will actually become a JTF 2 assaulter.

The standards established for selection and employment with the unit are scientifically designed and validated at the CF Dwyer Hill Training Centre in order to ensure that the members selected will be capable of accomplishing all tasks assigned to the unit. These standards are not just limited to physical abilities. High standards are also required for professionalism, integrity, psychological profile, mental aptitude, discipline, and maturity. These standards are required of all unit members, are tested regularly, and are an integral part of the JTF 2 ethos.

Security

JTF 2 is subject to very stringent security procedures in order to protect the unit and its mission. Indeed, the type of operations assigned to JTF 2 naturally captures the interest of the public but there are many risks involved with information disclosure. The CF recognizes the need to inform Canadians about the measures put in place by their Government to protect them against the threat of terrorism. Since its creation, JTF 2 has conducted numerous capability demonstrations for appropriate authorities that need to be aware of unit capabilities as part of their position or appointment. Such audiences include the CF chain of command, Members of Parliament, government officials and police authorities. The Government has also informed Canadians about JTF 2 by notifying the public about its creation in 1992, its expansion following 11 September 2001, the JTF 2 commitment to Afghanistan in 2001 and 2005, awarding of the U.S. Presidential Unit Citation to unit members and by responding to media questions about the unit within the limits of the security policy. However, being open and transparent about certain aspects of the unit could seriously compromise the effectiveness of Canada's counter-terrorism capability. History has shown only too clearly that terrorist organizations will use information about a unit's personnel, weapons, tactics and procedures to great effect by modifying their methodologies to counter the very forces designed to defeat them.

JTF 2 has established itself as a well-regarded Special Operations Forces unit. It has done so over its short history because of the outstanding quality and ability of its members, its proven operational effectiveness and its stringent operational security policy. This reputation has allowed the unit to develop strong relationships with its allied Special Operations Forces counterparts, relationships built on trust and confidence. These relationships assist JTF 2 in providing the best possible counter-terrorism defence for Canada. The CF security policy for JTF 2 is primarily based on Canada's situation, and is designed to safeguard information sharing and most importantly to protect Canada's counter-terrorist capability.

The Future

The Federal Budget of December 2001 allocated approximately $120 million over six years to expand unit capabilities, as part of the Government of Canada's overall plan to enhance security for Canadians following the attacks of 11 September 2001. Since then the unit has embarked on a program of expansion and capability enhancement while at the same time maintaining its high operational and training standards.

JTF 2 must be ready to respond immediately to any task assigned by the chain of command at home or abroad. The unit maintains the highest operational readiness standards in order to defend Canada against terrorism. On land, at sea and in the air JTF 2 challenges itself to ensure it's ready to defeat a multitude of potential threats. Canadians can take great comfort in the knowledge that as an integral part of Canada's Special Operations Forces community, JTF 2 stands on guard 24 hours a day to defend Canadians, and Canadian interests at home and abroad.

Myths Regarding JTF 2

Myth 1 - JTF 2 is a para-military organization.
Myth 2 - JTF 2 only selects combat arms members.
Myth 3 - JTF 2 does not accept female applicants.
Myth 4 - As a member of JTF 2, your family will never know where you are.
Myth 5 - JTF 2 members have a higher than average divorce rate.
Myth 6 - You must know someone within JTF 2 to get into the unit.
Myth 7 - You must be single to serve in the unit.
Myth 8 - You cannot have any tattoos to be eligible for service with JTF 2.
Myth 9 - Recruiting for JTF 2 is done outside the unit chain of command.
Myth 10 - Once posted to JTF 2 you cannot leave the unit.
Myth 11 - JTF 2 conducts activities outside the law.

...::: RE MYTHS: who cares, it's cooler if they operate like a PMC (private military company ) =] :::...