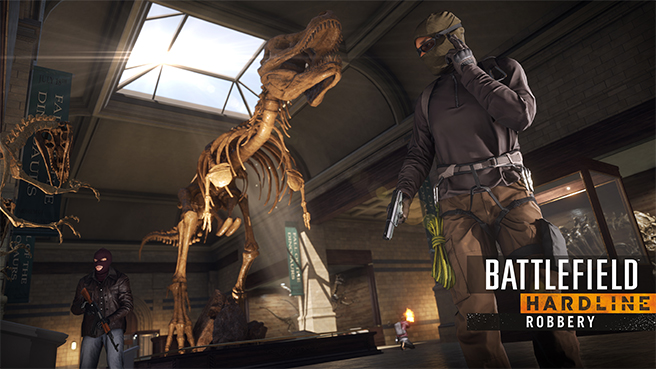 A new Battlefield™ is coming later this year, and we're celebrating by keeping the action going in Battlefield 4 and Battlefield Hardline. Over the next few months we'll be giving away previously released expansion packs for both games to anyone playing on Xbox One, Xbox 360, Origin for PC, PlayStation 4, and PlayStation 3. There are also new Community Missions and a whole lot more to get excited about. Let's take a look at what's going on right now.
From May 3 to May 10, you can get Battlefield Hardline: Robbery for free. It's all about the Big Score: how to steal it, or how to stop it. Robbery's maps and game mode are designed to let criminal teams plan and execute the perfect heist; or, for law enforcement, to get the crooks in cuffs before they can pull it off.
Four Expansive Maps: Explore The Docks, Break Pointe, Museum, and Precinct 7. Criminals are ready to do something big – they're prepped to launch massive heists in snowy cityscapes, murky docks, massive museums, and sunny coastal cities.
New Game Mode: Squad Heist: Built as an homage to the beloved Squad Rush in Battlefield 3, this mode combines the combat of Battlefield with the intimate fantasy of a classic heist.
New Weapons and Gadgets: Take out your enemies with the Throwing Knife, and check out two new Gadgets: Vehicle Healing and the CS Gas Launcher.
Legendary Super Feature: The Legendary Super Feature gives you the opportunity to become one of the truly elite Battlefield Hardline players.
Community Mission: Heist score
Hit the streets in Battlefield Hardline's Heist mode and collectively score 300,000 points to get a Gold Battlepack. This mission is active between May 3, 2016 9AM PT and May 9, 2016 9AM PT.
This is just the first step on the road…
There's more, too. Check back here every few weeks to see what's available for free, and keep an eye on Battlefield's Twitter channel to find out about upcoming 2X XP events, community missions, and more reasons to join us on the road to Battlefield.