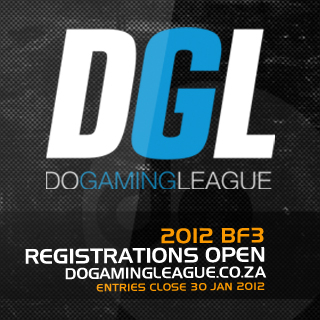 Platoon-Präsentation
The Telkom Do Gaming League is South Africa's largest gaming league portal.

In 2011 we gave away over R350,000 in prizes at the DGL Championships. The Championships are often referred to as "the rAge comp".

In 2012 we will be hosting the BF3 Do Gaming League, brought to you by EA. The BF3 2012 season has a guaranteed R50,000 prize pool.

Starting in February 2012, the BF3 season is split up into three legs. At the end of each leg teams are promoted and demoted between divisions according to their finishing position.
The highest ranking division is called the Premier Division.

The league is open to casual and competitive clans alike and promises to be the most fun you will ever have in BF3!
Platoon-Feed
Keine Ereignisse zum Anzeigen vorhanden