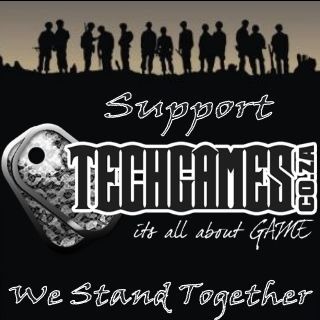 Platoon Presentation
http://servers.techgames.co.za/templates/GameServer/html/images/headerconbg.png

http://servers.techgames.co.za/templates/GameServer/html/images/log1.png
http://servers.techgames.co.za/templates/GameServer/html/images/log2.png

http://www.forums.techgames.co.za/
https://www.facebook.com/zaTechGames

Why Choose TechGames?

TechGames is all about the game. From the social gamer to the hardcore competitive gamer. TechGames has something for every one.

Dedicated Servers.

TechGames features low ping servers at an amazing cost. Not leaving anything to chance. We only host from the most powerful servers.

Clan Support.

We at TechGames we are not only renting you a server or a Teamspeak we will also assist you with the setup of it so that you as server owner can focus on the look and feel of you new clan e.g Connect Procon and show you how your new TS work
TechGames - South African Ranked Game Server Provider under new ownership

Cape Town, March 24, 2013:


We here at TechGames are happy to announce that we are under new ownership. Led by Andre Joubert (aka -SlickSky) (Managing Director), Jason William (Technical Manager) and Lendl Boonzaaier( Marketing and Sales Director), they assure us that this is "the start of Big things for gaming in South Africa".


At the latter part of last month, these well-known names in the local gaming world convened and discussed the future of the gaming industry and how TechGames could capitalise on the massive growth of gamers and the multiplayer genre in South Africa. With TechGames already being the Host to the leading local Minecraft and Crysis 3 servers and the only listed South African TeamSpeak server provider, the foundation is set and "things are only get better from here".


The new owners will bring strong direction to TechGames as a ranked server provider as well as a gaming community. TechGames will continue to provide the high quality of service and product at an international level. To this end we have secured relationships with companies such as Electronic Arts, Phogue, TeamSpeak and other industry leaders. "The strength of these partnerships will help solidify our objective of becoming South Africa's leading game and server provider. To be the complete solution to every gamer's want and need. We aim to offer professional service and excellent support and believe that every client is an opportunity for growing the South African gaming community."


In Concert with the new ownership, TechGames is proud to announce their newly designed website, www.techgames.co.za and www.servers.techgames.co.za where you can tour through all the many products and services they provide. For more information or a full description of what they offer email info@techgames.co.za. While you're there, make sure to browse the list of gaming titles available for online purchase.


Our sister company, Razoweb, is an Internet Service Provider who boasts with great stability, excellent service, highly competitive pricing and 99% uptime, even during Seacom's recent internet crippling incident, and we offer that same stability.


Our friendly, experienced team is well equipped to deal with any and all situations. Running from one of the largest Data Centers in Africa, you can rest assured that we are ready and able to give you the best service available.


For all your gaming needs, make sure you head over to www.techgames.co.za and see what we have to offer. We'll be ready and waiting to give you our best.
Platoon feed
There are no more events to show