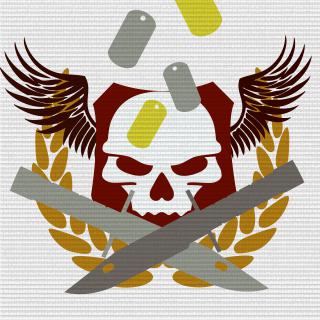 Dogtags Event
Tag:
[DTE]
Fans:
34
Created:
2013-05-29
Platoon Presentation
Dog Tags Event est un meeting pour les passionnés de Dog tags .

Il réserve au premier inscrit de belle surprise niveau DOG TAGS.

Les Règles sont simple et un non respect de celle ci entraînera irrémédiablement une radiation du serveur (BAN sans retour possible) ainsi qu'une radiation de la section de l'événement.


Nous voulons un respect de tous les participants et nous appuyons vraiment là dessus, car tous les meeting de Dog Tags finissent par un non respect des règles.


Voici les règles :

N°1 - Pour rejoindre le serveur vous devez changer votre nom de Team par :

- [DTE] les Admins auront [ADTE] -

(A vous de faire attention à bien porter la marque de clan , car aucune erreur ne pourra être admise , afin d'éviter les petits malins qui voudraient s'incruster dans l'événement sans être passé par notre section)

N°2 - Pas de Classe ASSAUT : (afin d'éviter les rez qui entraînerait un cut au sol )

N°3 - Pas de Only couteau ( Le but est de jouer une partie BF classique )

N°4 - Le Bunny jump est toléré sauf si on a le couteau à la main.

N°5 - L'obligation de tous les joueurs de porter une belle plaque (Normal !) :

- Les Plaques en OR : (les plaques colonel 100 et "maître d'armes primaires" ne sont pas tolérées)
- Les plaques Rares : Javelin, stinger, marqueur laser, Mortier...
- et Important PLAQUE DE GAUCHE ! si vous avez des plaques d'armes rares partagez !


La rencontre c'est avant tout pour passer un bon moment ! , c'est aussi pour remplir vos collections et pourquoi pas la finir !

NOUS DEMANDONS A CHAQUE PARTICIPANT DE POSTER SUR LA SECTION LES PLAQUES QU IL PROPOSE AFIN DE PERMETTRE AUX AUTRES JOUEURS DE VOIR CE QUI S'OFFRE A LUI .


Les dates vous serons communiquer ultérieurement.


Merci.

ENGLISH :
Dog Tags Event is a meeting for dog tags lover.

He provided the first part of beautiful surprise DOG TAGS .

Rules are easy and non-compliance with the above will inevitably Ban server (BAN no way back) and a radiation section of the event.


We want respect for all players and we really on it because all rally Dog Tags eventually non-compliance.


Here are the rules:

No. 1 - To join the server you need to change your name by Team:

- [DTE] Admins with [ADTE] -

(Just make careful to make the score clan because no error will not be accepted to avoid the smart kids who want to embed in the event without going through our section)

No. 2 - No Class ASSAULT (to avoid ground that result in a cut to the ground)

No. 3 - No Knife Only (The goal is to play a classic BF game)

No. 4 - Bunny jumping is allowed unless you have the knife in hand.

No. 5 - The duty of all players to wear a beautiful Dog Tags

- The Gold tags (tags 100 and the Colonel "master primary weapons" are not tolerated)
- The Few tags: Javelin, Stinger, laser marker, Mortar ...
- Important and Tags LEFT! if you have rare weapons share plates!


The meeting is primarily to have a good time! Is also to fulfill your collections and why not finish it!

WE ASK FOR EACH PARTICIPANT POSTING ON SECTION PLATES THAT IT PROPOSED TO ENABLE THE OTHER PLAYERS TO SEE WHAT THAT OFFER HIM.


The dates will contact you later.


Thank you.
Platoon feed
There are no more events to show