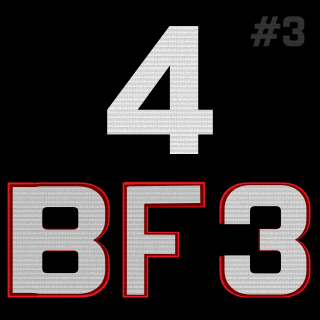 Platoon Presentation
Platoon #1 http://battlelog.battlefield.com/bf3/platoon/2955065231014562157/
Platoon #2 http://battlelog.battlefield.com/bf3/platoon/2955064800161166756/
Platoon #4 http://battlelog.battlefield.com/bf3/platoon/2955065256079327733/


Server: 4EVER BF3 | Kings of Conquest | Best Map Mix + DLC | 1000T | 64
15.01.2015 - 04.03.2019

Website: http://4ever-gaming.de (offline)
TS3: ts.4ever-gaming.de (194.169.211.218:9989) (offline)
Discord: https://discord.gg/MFqRXtE (inactive)

Server is closed. Thank you for the great time and cya on the Battlefield!

All time top 100 players:

1 FridayAfterNoon
2 WarriorOfEvil
3 x_Fury161_x
4 ASIER_Plus_Ultra
5 colonelOpe
6 Warhawks-97
7 Anddraca
8 a3zmxncb
9 Viking64600
10 Pernoss
11 TopKekHacker
12 burli-der-grosse
13 vainamo
14 0815Karotte
15 noname175
16 Watcom013
17 MakaveLiThaDon77
18 DrSchnuppi
19 Arnaud0902
20 TheSoupFly292
21 ABAIA
22 snaipasz
23 Exchange_REC
24 imYati
25 ECSS039
26 AIf_GER_
27 Cherokeee3ee
28 bort129
29 mastertom78
30 Pr0K1llers
31 Private-Ace-Levy
32 Charognard35
33 tontonzyklon
34 N0v4life
35 poca86lipe8
36 thc_skill_kill
37 baumbambuk
38 kerik04
39 196531
40 CheSerdo
41 tacticaleroes
42 Marirex
43 Bf-Just_True
44 TheBloodyWizard
45 l0l0p0p
46 FeelIT785
47 Safim
48 rimkou-is-love
49 MaciekAudi
50 attilala
51 ShvngRyansPrvts
52 RakefipamftEyyaf
53 phenombox
54 AMedicalStudent
55 IIBlackForest
56 Mahdirulez
57 andross40
58 DeineOmma_lol
59 RUSSEL-X-X-X-rus
60 Windziaz
61 ZangeifExcel
62 UnNainPosteur
63 feldsau
64 death_valley86
65 Miguelangelmg
66 TunnelT2
67 MarcinL86
68 n4no0
69 DillerSteN
70 Avrim
71 Oz-Volt1
72 Pandnik
73 Bertrand_du_33
74 klb1
75 -aW-Nighthawk118
76 Hokenero
77 Colonel_Finch
78 BloodIYIiX
79 MrEtrix
80 CarbonBased76
81 WHIT3-l2USSIAN
82 Latvietis96
83 strullerdude
84 vvinnicki
85 riva1-77
86 Late_igniter
87 Christianuss
88 HeliHazzar
89 One_xr7
90 Royaltyisrudolf
91 mmzuber
92 aidarenok
93 xRuhadam
94 Freizeitrebell
95 M4R1U565
96 SadMyurid
97 kecovb
98 sen712
99 shrikey
100 R3cycIer

https://youtu.be/04854XqcfCY

Over and out
- AC-Topper 04.03.2019 11:45 am CET
Platoon feed
es ist schade zu sehen das wieder ein klasse server stirbt... :( danke für die geile zeit

AC-Topper

Ja echt schade :( Aber alles hat leider sein Ende. Hätte eh nie gedacht, dass die ganze Sache über vier Jahre so erfolgreich läuft

BF42-Warrior

ja verstehe schon das alles irgendwann mal vorbei ist.... trotz alledem war es klasse..weil auch da maps liefen die du so nirgends mehr groß spielen konntest..das hat halt den server von anderen abgehoben :)

Were the tickets has been reduced to 750 from 1000???? IF so can you bring back the 1000 tckts ?

hi just at the moment Der_Gimpler and Volunteer_nr1 were keep stealing our jets and hellis abd baserape because of that server clerared from players. they was keep doing that whole time

is server down?? 4EVER BF3 | Kings of Conquest | Best Map Mix + DLC | 1000T | 64 ..

I have a suggestion to fill up server quickly... could it be possible when there are less than 32 players no big maps like bandar dessert to be suggested as vote or to be cycled. When server hits 32 exactly, then for aforementioned maps to be put back in cycle. So the server can be more appealing for joining ?