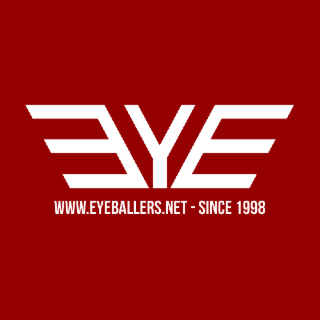 Présentation de la section
_____________________________

www.EYEBALLERS.net - Since 1998.
_____________________________

Sponsored by:
http://www.INET.se
http://www.QPAD.com
http://www.BENQ.com
http://www.KASPERSKY.com
http://www.ROCKETBLAST.com
http://www.MTMAB.se

Facebook: https://www.facebook.com/eyeballersnet
Youtube: http://www.youtube.com/officialeyeballers
Twitter: http://twitter.com/eyeballersnet
ESL: http://www.esl.eu/eu/team/6397736/
IRC: #eyeballers @ QuakeNet

#1 ESL Go4BF3 #52 5on5
#3 Thor Open 5on5 (offline)
#3 Dreamhack Winter 5on5 (offline)
#1 ESL Go4BF3 #46 5on5
#1 ESL Go4BF3 #45 5on5
#1 ESL Go4BF3 #43 5on5
#1 Challengers Cup 5on5
#1 ESL SQR Night Cup 4on4
#1 ESL Close Quarters cup 3on3
#1 ESL Hardcore cup 4on4
#2 Dreamhack Summer 5on5 (offline)
#1 ESL Go4BF3 #27 5on5
#1 OnlineGamer 4on4 (offline)
#1 Webhallen Nvidia Event TDM 4on4 (offline)
#1 ESL Spring cup 4on4
#1 ESL Winter cup 4on4
#1 ESL EU ladder 4on4

SERVERS:
- EYEBALLERS Noshahr Canals 250 Tickets
- EYEBALLERS Wake Island 250 Tickets
- EYEBALLERS Firestorm CQ Fast Vehicle
- EYEBALLERS Grand Bazaar SQDM
Feed section
You can now buy EYEBALLERS merchandise here: http://www.qpad.com/shop/sv/17-eyeballers

In a few minutes the Grand Final of the Nations Cup will commence. It is Team Sweden vs Team Finland. EYEBALLERS are of course reinforcing the inf. squads and will be streaming at: http://www.twitch.tv/team/eyeballers

NEW MOUSEMAT COMPETITION! Now you can win a Qpad CT Large EYEBALLERS edition! All you have to do is to like us @ https://www.facebook.com/eyeballersnet and be #1 at our Firestorm server. Competition ends next friday 3/5 at 24:00 CET. Server: EYEBALLERS Firestorm Fast Vehicle Check your current position: http://www.gametracker.com/server_info/188.126.64.17:25255/

Check out EYEBALLERS new server. It's Firestorm CQ 32 players, fast vehicle spawn. Get in there and KILL! http://battlelog.battlefield.com/bf3/servers/show/358b2f07-0d7f-4fa3-8b85-00c1bc87820a/EYEBALLERS-Firestorm-Fast-Vehicle/

Please help us and our sponsrors by liking us on Facebook: https://www.facebook.com/eyeballersnet Thanx alot!!! :D

Zienx goes c4 master! http://www.youtube.com/watch?v=VOppibobCBI

We're happy to announce that we've recently entered a collaboration with BenQ. When fragging at a high level every frame counts! Several hundred frames per seconds won't do you any good if your monitor is unable to display them. BenQ offers several high performance monitors capable of displaying 120 frames per second(120 Hz) and that's why they're the official EYEBALLERS monitor from now on.

Team Sweden vs Team Poland on metro, round 1. Pov: EYE-Zienx http://www.youtube.com/watch?v=aIgbh51PXlA

http://www.twitch.tv/levelbf/b/381857375 Time: 1.59.12 Zienx hides like a boss!