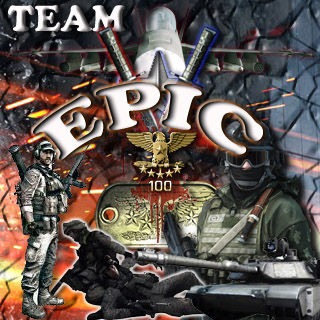 EPIC
Tag:
[EPIC]
Fans:
29
Created:
2011-10-30
Platoon Presentation
We will darken the sky with our Javelins,and ride to your base on the burned out hulls of your vehicles.
Hoppin n poppin, sneakin n peekin, flag cappin n neck snappin WE ARE EPIC!


Anyone wanting to apply needs to send ForemanSS (RRKY ROADBLOCK) a friend request and we will give you a chance to prove what you can do.





EPIC is a pub star clan.we play with freinds.and freinds of freinds.there is only fun an good times in epic. But if u mess with one u mess with all.

We dont run clan tags but we dont run from them either.
Platoon feed
There are no more events to show