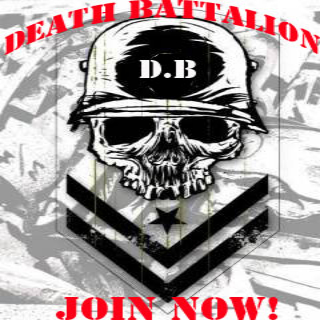 Death Battalion
Tag:
[DB]
Fans:
13
Created:
2011-12-09
Platoon Presentation
Portugues :

Nós somos o Death Battalion, uma platoon brasileira, mas aberta a quaquer um, não importa a nacionalidade, nivel ou skill.

O q não é admitido pelo Death Battalion :
1. RACISMO.
2. HACKING/CHEATING.
3. DESRESPEITO A OUTROS INTEGARNTES DA PLATOON.

OPCIONAIS :
- Usar a tag DB(eu prefiro que seja usada para nos representar mas a escolha é sua) .
- Usar a pagina da platoon para publicar o q quiser ou discutir assuntos referentes a platoon.
- Convidar amigos para participar da platoon (eu também prefiro que seja feito mas mais uma vez a opção é sua).
- Usar o VOIP.
- Virar fan.


English:

We are the Death Battalion, a Brazilian platoon, but open to anyone, no matter what your nationality, skill or level is.

What we do NOT accept:
1. RACISM.
2. HACKING/CHEATING.
3. DISRESPECT OR OUTRAGEOUS BEHAVIOR TOWARDS PLATOON MEMBERS.

OPTIONAL:
- Use the DB tag.
- Use the platoon page or whatever you want to discuss any platoon related issues.
- Invite friends to join the platoon.
- Use VOIP.
- Be a fan.
Platoon feed
There are no more events to show