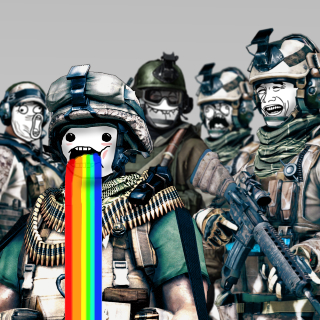 Klass
Tag:
[ggwp]
Fans:
26
Created:
2011-12-23
Platoon Presentation
Gentlemen.

WE BEAT OUR WIENERS WITH NITROGLYCERIN!

In Order to join you need the following:
Minimum KD of 6.25.
You must camp and maintain an SPM of 700.
You must have a minimum marksmen headshot of 1000m - we need to be sure that your'e a good sniper.
If you have more than 2 friends, you can't join.
If you have a girlfriend, please close the browser.
You must have or had a cat.
If your'e a communist, you have a higher chance joining the platoon.
You must play on a PC that runs the game on LOW graphical settings in-order not to have an advantage on the rest of the clan members.
You must have a will to win, which means switching teams when you are on the losing one.

Good luck all.

P.S. CAAAAAATS.
Platoon feed
There are no more events to show