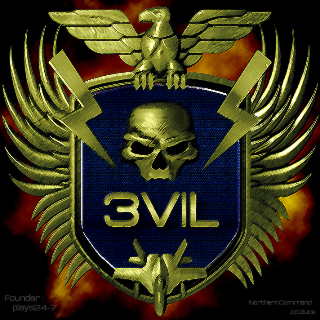 Chaos
Tag:
[3VIL]
Fans:
37
Created:
2012-01-04
Platoon Presentation
============================
**Ground Rules for this Platoon**
============================

-1- Respect Team leaders and Squad leaders commands and also respect your clan mates, they're trying to teach other members to work together as a team to prepare for clan battles! Members are expected to wear 3VIL as their clan tag so other members can squad up with platoon soldiers. When u join us in game and don't have our tags admins wont know ur with us and u may get moved to the other team so change ur tags!

-2- Respect other clans. [3VIL] works together with [HF];[TXDC],[GYD], [KiLA], [SMA],[Bffs],[G4L][KR3W],[PSA],[MKA],[SiC],[RAD],[SMA],[YESH], ETC we don't need drama. Keep your comments between your clan!

-3- Attention our clan server is up and running add it as a Favorite end game maps are up! we will use this server for training and whooping ass of our opponents ! Plays 24/7 has made several people admins on the server. When logging on battlefield 3 click multiplayer then go under my servers towards the bottom of the list and it will show if ur a admin or not. Also please message myself or ynkenut16 is one of our admins are abusing admin power. Attention admin please don't ban people it freezes up the server.

-4- If u are wearing clan tags from another platoon u will be demoted as a team leader immediately unless certain exceptions are made

-5- If you don't want to play as a team player, or you cant work together with other members without talking shit you will be kicked from the platoon! there are many people trying to obtain a spot in the 100 that the platoon can max out at!

-6- NEVER will any Platoon member leave during a clan battle unless very important. You must let a team leader or squad leader know why you are leaving.

-7- If any issues with command or platoon please contact team leaders or founder!

-8- Squad Practices
Every Thursday we have practice. All are encouraged to attend.
Practice will be at the the following time:
10:00pm EST ( Eastern)
09:00pm CST ( Central)
08:00pm MST ( Mountain)
07:00pm PST ( Pacific)



Platoon feed
so ummm when does the evil raping begin on BF4?

Guess whos back guys!!!!!!!!!

attention all admins I had to delete all my admins because someone keeps fucking with the platoon server and no one would fess up so that person ruined it for the rest of us great going!

Show 4 more...

elzorro_801

Chop up the Admin list to only Squad Leaders of the Platoon.

Hello Guys, when is the next clan battle comming up?

get2thachoppa2

ill let u know its been tough to get people together lately

Bissemus

ok, but fun to play with you the last couple of days....