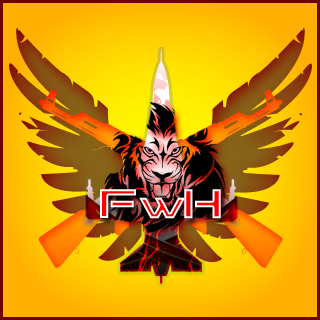 Platoon Presentation
We Fight with Honor through playing as a team and communicating with others. A Mic must be used at all times. We are always respectful of other players. We are here to have FUN and ENJOY the game. Remember to FIGHT WITH HONOR!!!


♦ Other Rules to Follow on the Battlefield
1. Please wear the TAG [FwH] at all times. No TAG=KICK, shows your loyalty to the platoon.
2. Mic is mandatory!!!!
3. No DISRESPECT to any player
4. No Jet Ramming or Chopper Ramming & NO TBAGGING we DO NOT play dirty
5. Don't leave a fellow FwH member in a squad by themself.
6. Be active on Battlelog to keep track of new updates.
7. Not Required to be on 24/7. We do understand there is life outside of Battlefield. We do need you to play with us every once in a while.
8. Must be at least 17 years of age.
9. Add all leaders on PSN is now MANDATORY

♦ Server Rules
1. No Spawn Trapping, Stealing Vehicles or Base Raping
2. No Glitching, Hacking or Boosting
3. No Jet Ramming


♦ Competitive Team Requirements
1. K/D Ratio 1.00+
2. SPM of 400+
3. Must be able to practice with other members a lot before a battle or play at least 15 hours a week.

♦ If interested in joining go look up FwH Recruits and apply!!!

We Win & Lose as a Team!!! Any member caught switching to the opposing team to get the win will result in an immediate KICK!!!

ltchris83 is also a leader, he can not log into battlelog so be sure to add him.
Platoon feed
So what happened to everyone?

I miss you all guys. I'm on PC now. BF3 is free on Origin so I hope you all get it! I'm being deployed soon as well.

PandaKillaz

Fuck dude. Shit happened fast fuck those fuck jobs in the ass with some merica spirit.

as most of you have realized am no longer on BF3/4 on PS3 moved over to BF4 on the PS4 please feel free to send me an add

How's it going everyone? I'm currently fixin on getting a new ps3. I've been on steam alot so if anyone of you guys use it feel free to add me on steam : MrAndylawa42™.

Anybody with BF4 copy on PS4, I think i figured out how to create a party. Invite a friend via the ps4 party program, go back to game then search for a server, then you and your party should be joining together.

Hey guys, Since you all are on BF4 and i dont have the money to get it right now i joined another platoon for BF3 and switched my tags to them ill still kick it with yall when yall decide to be on BF3 but wanted to give a heads up.