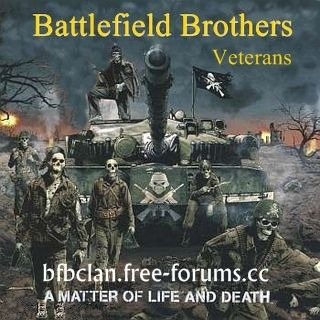 Platoon Presentation
*** Respect - Honor - Discipline - Teamwork ***

Welcome to the page for Battlefield Brothers Veterans,

This platoon is happy to take applications however we are by invitation only (this means if you are interested in being part of our Veterans side you are welcome to apply, but we will hold your application and if you meet our criteria you will be invited to join at a later date)

We are currently looking for skilled infantry soldiers and Pilots for both jets and choppers.

we have active members who play nightly why not check us out @ our server: BATTLEFIELD BROTHERS VETERANS [BFBV] ( OFFICIAL SERVER ) we play Conquest on Hardcore mode with 200% tickets .(BF3 & Armored Kill maps)

These are the required statistics and conditions we look for in our applicants:

*** BFB VETERANS IS STRICTLY OVER 18'S ONLY ***

%% SPM=500 %%

%% KDR=1.5 %%

%% WLR=1.5 %%

%% MIC=Required %%

%% Team Work Required %%

%% Active Players (3 times a week & play in our server, BFBV should never need to be without support of their fellow Brothers in arms)%%

%% Wear Clan Tags: .. [BFBV] or look for another clan %%

%% Battlelog Activity %%

War Officer: http://battlelog.battlefield.com/bf3/user/spanky1204/

Recruitment Thread: http://battlelog.battlefield.com/bf3/en/forum/threadview/2832654489943910991/


*** Interested in joining BFBV then heres what you must do:.. Meet the above recuirements... add one or more of our members and join us in game.. squad up with some of our BFBV members or Squad leaders & we can see how we all get along and work together.... This is the ONLY way to begin your journey into BFBV ***
.
Platoon feed
There are no more events to show