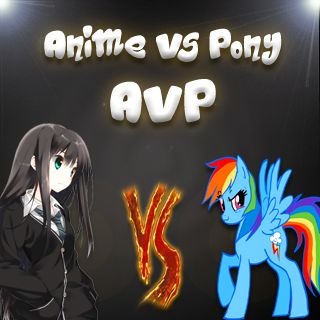 Anime Vs Pony!
Tag:
[AVP!]
Fans:
8
Created:
2012-09-19
Platoon Presentation
FIRST MATCH:
SERVER NAME: Metro 500% and other
OWNER:Peter
DATE/TIME: 30.12.12 @20:00 GMT
FOR THOSE THAT HAVE ME AS A FRIEND JUST JOIN ON ME!



This platoon was made on the 19th of September 2012. The purpose of this platoon is to have weekly matches between Pony and Anime fans! This is like a small community event hosted on the PONY SPEC OPS server! ADD EACH OTHER ON PSN


PC VERSION IS HERE THANK NjectAllupz
http://battlelog.battlefield.com/bf3/platoon/2832655391764616569/


Emblem made by Ekare. http://battlelog.battlefield.com/bf3/user/Ekare/


~FIRST MATCH~
~Sunday 7th of October 2012~
Teams are listed below!!!
Good luck


Team Pony
VinylMioScratch
TheGodpony
Dat-Cor_404
PonyTimeKitty7
battleshy
TheMcSqueakers
Mashmo08234
nuclear1250
PaperBoyx703
YoLetMeHealsYou
DarkFlame588
jgram17
DieHard2Live
pwnzz-u
Umbrejolt
sandwiched345
KO_ABDO_KO
Colgate_I
ShootingStar_l
Walker_2400
Gooby_404
Nohshan
ROFL_WAFFLE_l
TACT-Thijzie

Team Anime:
Yuuki_Asuna
A-RosarioForYou
SonicKDT
MrSpringRoll
13man18
xJacker
azure
a99 general
SexuaLPanDa-1000
Miharu_805
xChestPaddles
roland117621
MsG-SIaveToYuri
CyS_Eiyux
Zahlia02
TACT-Borat

Please join and get this party started!

Platoon feed
There are no more events to show