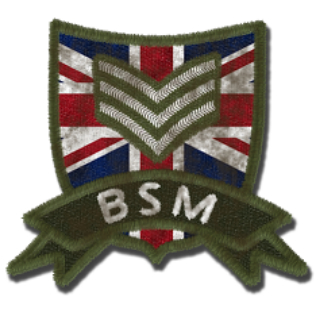 Platoon Presentation
Welcome to our platoon page. [BSM] use this platoon exclusively for its server admins. If you like how we run our community servers please become a platoon fan and visit our website for info on joining us.

Regulars of [BSM] may join one of our platoons and wear the [BSM] tag as a sign of support.

http://www.britishsergeantsmess.com/index.php/faq/5-how-do-i-become-a-member-of-the-british-sergeants-mess

At BSM we encourage realism and team work and aren't afraid to show our gratitude to non-selfish players. Our servers are always attended by a solid admin presence and we have a strict code of conduct to protect us and our visitors. If you would like to give us feedback please use the website forum.

Join us on TS3 at ts3.britishsergeantsmess.com

All our servers can be found by searching [BSM]

See you on the Battlefield soldier!
Platoon feed
There are no more events to show