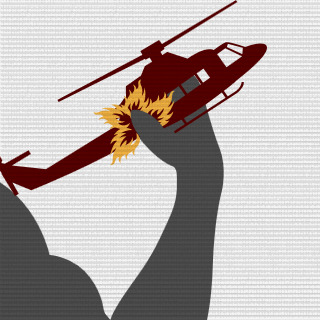 FixThaHeliNerF
Tag:
[NERF]
Fans:
102
Created:
2011-12-08
Platoon Presentation
THIS IS A REVOLUTION!

FAN / REQUEST AN INVITE TO THIS PLATOON AND SHOW DICE HOW MUCH YOU HATE THE LATEST PATCH!

Help show DICE how many of us are upset with the latest patch.

We don't even need to tell you some of the many things which have been completely ruined you already know.

Don't just take this sitting down, fan / request an invite now, let's show DICE that we're PISSED!

-

""Dear, Kid_Cutty / Sol_Lucet

The DICE developers and administrators have heard and read your complaints regrading the latest patch on the
PC Platform. We understand that some of the players are upset with the changes included in the patch that have
been put into motion. Please understand that we are not singling any one player out in reference to the new patch.
We at D.I.C.E. understand that some mistakes were made and we appologize for any inconvenience;
unfortunately certain changes made have been set in stone and cannot be changed. That being said we ask that
you please halt you're "REVOLUTION" and stop the profanity or permanent removals will be made to you're E.A.
accounts.

Thank You for you're time
D.I.C.E. Global Adminstration
zh1nt0
Global Community Manager""

-

Thanks to everyone who's joined / fanned so far, DICE is listening, let's keep the pressure on!

Nerfs:

Pilot rockets aim was changed signifigantly and the aim assist was broken making accuracy almost impossible.
- Has been adjusted slightly since Karkand and IMO(5O1O) is quite acceptable now.
Aim assist reticule is still broken.

TV missile had artificial lag introduced which made steering it difficult
- This was also adjusted at B2K, heli kills are easier, missile still glitches and suicides heli or does not give points
on some kills.
Most gunners are better with missile since patch.

- Jet canon damage buffed against helicopters
- Not clear but I believe from my own experience that this buff has been reduced very slightly but IMO not sufficiently.
No0b jet pilot shouldn't be able to take out pro heli pilots in 1 second flat, heli doesn't stand a chance if jet is
interested in it.

Soflam/Heatseaker AA range increased
- Good pilots can deal with this but dealing with the silent Javelins require the pilot to have a sixth sense.
Soflam / AA lock on time could be increased or the range reduced slightly aa shooting clear across a map is OP

Gunner flare reload time increased
- Was already longer than pilot's reload time. requires better teamwork between a pilot and gunner now and a
good pilot can cope with this.




Platoon feed
There are no more events to show